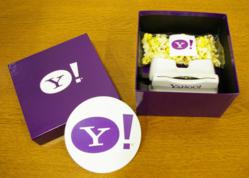 Everything on this order was custom! Custom reel, custom imprinted viewer, custom box, custom inserts, and custom outer mailing boxes. I was definitely wishing I was on the mailing list
Portland, Oregon (PRWEB) March 12, 2013
Image3D, leader in custom View-Master style reels and viewers, debuts exclusive designs for Yahoo! The Yahoo! View-Master style reels and viewers were part of Yahoo!'s marketing campaign for its new "Men's Slate" program lineup.
The order included custom reels, viewers, gift boxes, and popcorn packages, surpassing Image3D's usual customization request. Yahoo! opted for white View-Master style viewers with purple logos on each. The viewers and popcorn packages were delivered in custom purple gift boxes with white logos. The reels included images from each of Yahoo!'s new shows. The "Men's Slate" programs featured include Yahoo! Sports Minute, hosted by Angela Sun, Kaboom!, Mansome and Stunt Nation hosted by Sal Masekla.
"Everything on this order was custom! Custom reel, custom imprinted viewer, custom box, custom inserts, and custom outer mailing boxes. Yahoo! even included a little popcorn goody inside for the recipient! I was definitely wishing I was on the mailing list," said Image3D's Social Media Manager, Liz OeDell.
Image3D is the only company of its kind with its level of expertise. With more than four decades of experience, Image3D boasts one of the most experienced staffs in the business. The Portland based company regularly produces bulk orders for corporate heavyweights and individuals looking to spruce up their events. While Image3D has the capacity to produce large orders they also specialize in single orders for gift giving. Image3D's consumer and corporate divisions work together to provide state-of-the-art 3D experiences for all customers. Read more about the Yahoo! Viewers.
About Image3D:
Established in 1997, by world renowned 3D photographer Rich Dubnow, Image3D provides custom View-Master style reels and viewers for everyone from blushing brides to corporate titans. Rich has more than two decades of experience as the lead photographer at View-Master and has produced work for creative visionaries like Jim Henson and Steven Spielberg. Today Image3D operates in a state-of-the-art facility in the picturesque Pacific Northwest, creating unique and awe inspiring 3D experiences for all. To learn more about Image3D visit http://www.Image3D.com