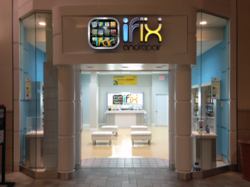 The new Boynton store has a huge variety of accessories, such as chargers, cases and headsets.
Boynton Beach, FL (PRWEB) March 12, 2013
The computer and cellular repair company, iFixandRepair, opened a new store in the Boynton Beach Mall on February 23th, 2013. It is now open Monday through Saturday from 10:00 a.m. to 9:00 p.m. and on Sunday from 12:00 p.m. to 6:00 p.m.
The staff resolves many different types of damage to devices ranging from water spills to cracked screens. Most repairs are made during the visit. Customers are encouraged to shop while their tablet, computer, game console or smartphone is being repaired in the shop.
The new Boynton store has a huge variety of accessories, such as chargers, cases and headsets. An iFixandRepair store has more phone gear than most competing stores, with hundreds of colors and types of phone cases to choose from.
Old and broken phones sell for cash at iFixandRepair, and customers can pay their H2O phone bill, with the same cash, during their visit.
Return customers are rewarded with a loyalty program, and they can buy pre-paid cards for future visits. Weekly specials are available, and the sales staff is friendly and ready to serve their customers' every needs.
Broken devices are accepted by mail for repair. The customer selects a repair on the iFixandRepair.com website, mails in the device and receives a response within 24 hours. When repairs are complete, iFixandRepair immediately returns it. Customers can expect to have repairs made within another 24 hours after the item is received by iFixandRepair. Occasionally, unusual components must be ordered for specialty repairs, which may add time to the repair process.
Similar to the mail in service, iFixandRepair employees make house calls to make repairs. Without having to move a computer, customers have their large devices repaired on the spot.
About iFixandRepair:
The iFixandRepair brand is continually growing. Business licenses are available to investors with the necessary capital funds. Nearly 30 stores exist, and more are expected to open in the near future. Stores are placed in prime locations like the Boynton Beach Mall. This particular store is located in the very center of the mall. As business increases, the stores expand.
The new Boynton Beach store can be reached at (561) 223-9349.