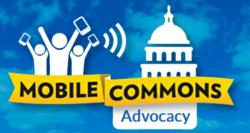 There is no better product to get the legislative outcomes you want," said Jed Alpert, CEO of Mobile Commons.
New York, NY (PRWEB) March 12, 2013
Mobile Commons today announced the release of a new product, Mobile Commons Advocacy – a plug-and-play tool that makes it easy for organizations to drive phone calls to Congress and affect legislators' opinions. By instantly connecting hundreds of thousands or even millions of callers to their state and federal legislators, Mobile Commons Advocacy gives groups the power to transform popular support into legislative results.
"There is no better product to get the legislative outcomes you want," said Jed Alpert, CEO of Mobile Commons. "Mobile Commons Advocacy makes it simple for an organization's supporters to speak their minds directly to powerbrokers on the Hill."
Mobile Commons Advocacy builds on the tremendous successes that Mobile Commons' clients have had with focused phone call campaigns. In 2012, Tumblr and other Internet groups drove half a million phone calls to Congress in protest of the SOPA anti-piracy legislation. Mayors Against Illegal Guns are currently rallying nationwide support to curtail gun violence.
"With Mobile Commons Advocacy, we have made a plug-and-play product that's incredibly easy to use," said Benjamin Stein, CTO of Mobile Commons. "Now any organization can have a legislative impact."
Most Effective Advocacy Tool:
Mobile Commons Advocacy instantly connects callers with their federal or state legislators, automatically matched according to their districts. Organizations can also connect people directly to the White House switchboard.
Here's how it works:
1) The supporter fills out a form on an organization's website, inputting their phone number and address.
2) The supporter's phone rings. Alternately, supporters can launch their phone calls by directly dialing a phone number.
3) When the supporter picks up, she hears the organization's key talking points.
4) The supporter is routed to her district-matched legislator.
Once callers have been connected to one number, Mobile Commons Advocacy can connect them to others – so it's painless for supporters to call their Representatives, their Senators, and the White House in just a few minutes of their time.
Mobile Commons Advocacy comes equipped with a full state and federal legislator directory, which is regularly updated when there are new legislators or changes to legislative districts. Right now, Mobile Commons Advocacy is fully updated to reflect all legislators and districts for the 113th Congress, sworn in this year.
Track All Calls in Real Time:
Mobile Commons Advocacy keep track of everything, from where callers are transferred to the time they spend on the phone to who exactly is calling. That data is logged in real time, so organizations can see the calls as they come in. Data is then stored in the Mobile Commons platform.
Additionally, user profiles for callers are stored in Mobile Commons' CRM database, and can be synched with other CRMs. That way, Mobile Commons Advocacy can seamlessly integrate with an organization's existing outreach efforts.
A History of Phone Call Advocacy:
Mobile Commons has had a history of success working on advocacy campaigns. Below are just a few of the past campaigns that inspired the creation of the Mobile Commons Advocacy product.

Tumblr, Reddit and other leading Internet groups drove half a million calls in protest of the invasive SOPA and PIPA anti-piracy legislation. The outpouring of negative public sentiment caused both the House and the Senate to indefinitely postpone their bills.
Reform Immigration 4 America has generated half a million advocacy phone calls in support of comprehensive immigration reform.
Mayors Against Gun Violence has rallied nationwide support in its call to curtail gun violence. They're asking people to directly petition Congress and the President with a list of specific policy proposals.
The AARP asked senior citizens to take a stand against social security cuts, inspiring 123,000 phone calls to legislators.
Callers from Food & Water Watch overwhelmed the White House switch board in a powerful statement against fracking. Food & Water Watch won meetings with White House officials.
About Mobile Commons:
Mobile Commons, a mobile strategy and software company, is the technology behind today's most effective mobile messaging campaigns. Mobile Commons makes messaging simple with its industry-leading expertise. The software is easy to use, quick to implement, fully integrated, and equipped with every feature needed to make outreach and engagement more effective. Mobile Commons' customers that have received remarkable results include the Obama Campaign, AARP, Tumblr, California Department of Public Health, NY MTA, The Humane Society of the United States, R/GA, and hundreds of others. For more information, visit http://www.MobileCommons.com.