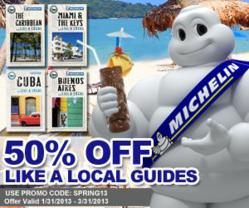 Studio City, CA (PRWEB) March 12, 2013
Looking for last-minute spring-break ideas that won't break the bank? Dreaming of a summer vacation of a lifetime?
Join CBS News Travel Editor Peter Greenberg and Michelin Travel Editorial Director Cynthia Ochterbeck for a Twitter chat (#MichelinLAL) on Wednesday, March 13 at 1 pm ET.
These travel experts will answer everything there is to know about planning for spring and summer travel, and they'll share tips from the acclaimed "Like a Local" guidebook series from Michelin Travel and Peter Greenberg.
-Find out where the hottest spring-break destinations are this year...and how to avoid the crowds.
-Learn about the biggest spring-break mistakes and how to avoid them.
-Discover how to bypass the tourist traps in favor of more affordable, authentic experiences.
-Get the inside scoop on hidden gems and secret spots where the locals like to hang out.
Five participants will win a "Like a Local" travel guide to Cuba, Miami & The Keys, New Orleans, Buenos Aires, or The Caribbean. One grand-prize winner will take home a Briggs & Riley BRX backpack.
Want to get a head start on the chat? Get 50 percent off all five "Like a Local" Michelin guides through the end of March. Visit http://www.bdasites.com/Michelin/Store/Browse/MICTRPGG and use the code spring13.
Follow @PeterSGreenberg and @MichelinGuides on Twitter to join the chat on Wednesday, March 13 at 1 pm ET/10 am PT. Use the hashtag #MichelinLAL.