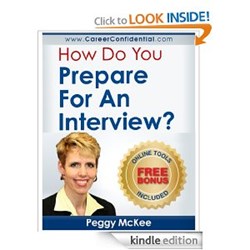 Dallas, TX (PRWEB) March 15, 2013
Before any interview, a job seeker needs to be prepared for any question that may come at them and with Peggy McKee's recently release Google eBook,"How Do You Prepare For An Interview" the step by step process is spelled out. After reading this eBook, any job seeker, regardless their level of expertise, can walk into any interview with confidence.
Job seekers don't need anymore "Interviewing 101" courses, they need the professional tips and tricks from a known Career Coach and Recruiter like Peggy McKee. This recent released Google eBook will provide the things that are a must know to be a success with any interview. In this new Google eBook, "How Do You Prepare For An Interview" Peggy tells just what job seekers need to know like how to research the company and know the questions to ask that shows they are prepared.
The trick to answering those dreaded questions are found in this Google ebook "How Do You Prepare For An Interview" will get any job seeker of any job level through the toughest interviews. Peggy McKee is a Career Coach and Recruiter and shares in this recent released Google eBook how to avoid the Do's and Don'ts that kill too many interview.
For anyone that is in the job market, this Google eBook is a must read and is now available. When the interviews happen and the job offer doesn't, something is wrong. McKee's recently released Google eBook tells exactly what happened and how to fix it so it doesn't happen again. With a step-by-step plan, this Google eBook, "How Do You Prepare For An Interview" will pave the road to a successful interview and the successful interview is one that ends with a job offer.
Not one job seeker should go forward into the world of interviews without first reading this new Google eBook, "How Do You Prepare For An Interview" by Peggy McKee, a know Career Coach and Recruiter. All the tips and tricks a job seeker needs is right here in a step-by-step plan that guarantees success when followed exactly. The book can be downloaded directly from here: https://play.google.com/store/books/details/Peggy_McKee_How_Do_You_Prepare_For_An_Interview?id=WXuB8pSsWXI
# # #
Career Confidential is committed to getting the unemployed back to work in 2013. After assisting over 10,000 people get a job, Career Confidential has set a goal to get 10,000 more people their dream jobs in 2013. Career Confidential exploded in 2012 with a 94% growth rate over 2011 in a down economy.
Based in Texas, Career Confidential specializes in the techniques and tools needed for a job search to be successful. This product is a customized and proven system that gives job seekers the power they need to nail the job they want.
With the guidance of CEO Peggy McKee and CTO Carl Chapman, two nationally recognized experts in the field of job search training, Career Confidential was founded in 2009 so that the original product, The 30/60/90 Day Business Plan, could be distributed more widely among job seekers across the world. From that one product, they now offer over 30 products that teach techniques and tricks to help every job seeker to land that perfect job.