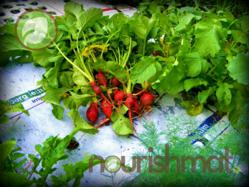 The Nourishmat food growing curriculum, through grassroots partnerships established across the Washington metro area, will be used to teach low income residents how to start a successful vegetable garden
Frederick, Maryland (PRWEB) March 12, 2013
Earth Starter, LLC will be featured in the Spring 2013 Groupon Grassroots™ campaign, an initiative started by Groupon.com as a platform for the website's followers to support organizations that are giving back to the community in approximately 65 different markets. Earth Starter, which is branded under the name Nourishmat, the company's flagship product, was chosen from among hundreds of applicants for the week-long Spring 2013 campaign. The Frederick, MD based company was awarded one of only about 40 spots on the website's selective list of worthwhile causes. Organizations that are featured in Groupon Grassroots™ receive 100% of the funds donated by supporters who visit the website.
The Earth Starter team will devote all of the donations received during the Groupon Grassroots™ campaign to fund a food growing curriculum to be used in partnership with anti-hunger agencies located throughout the Washington metro area and beyond. The curriculum will be designed around the Nourushmat product itself and will used to empower low-income individuals, families and communities to start growing their own food.
The Nourishmat food growing curriculum, through grassroots partnerships established across the Washington metro area, will be used to teach low-income residents how to start a successful vegetable garden and thus will reduce food insecurity in these communities by providing an affordable, sustainable source of healthy food. Nourishmats will be provided free of charge to clients serviced by nonprofits that work on the frontline of hunger relief in Washington, DC, Northern Virginia and the Maryland suburbs.
According to Earth Starter cofounders Philip-Michael Weiner and John-Randall Gorby, Nourishmat's inclusion in this upcoming Groupon Grassroots™ is of particular importance because it will allow the company to give back to the community that it grew out of. Weiner and Gorby, both alumni of the University of Maryland, College Park, are hoping to help reduce food insecurity and dependence on mass-produced food through their garden education curriculum designed around the Nourishmat.
Nourishmat, developed by Earth Starter, LLC, is an innovative gardening product geared towards empowering people to grow their own food. The patented design and construction of Nourishmat takes the guess work out of gardening. The Nourishmat, which was officially launched on Earth Day 2012, features built-in irrigation, custom-made seed balls and crop-specific spacing guides printed on a weatherproof weed barrier. The product serves as a tool to help busy humans supplement their diets with healthy, homegrown produce and to promote food growing in their communities. To learn more, visit http://www.nourishmat.com.
###