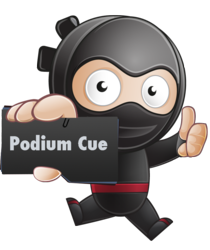 "School systems worldwide are incorporating mobile devices into the classroom, and our team is passionate about creating useful tools that help people communicate great ideas and share information."
(PRWEB) March 12, 2013
At the opening address, Dr. Atwater proudly told attendees this was the first time he had ever delivered a speech using an iPad. The audience responded with a hearty round of applause. He also highlighted the fact that up until then, he had always used 3x5 cards for his speaking notes but had found Podium Cue, an app created by local entrepreneurs that gave him the comfort of notecards in an easy to use and, admittedly, more organized format. Dr. Atwater said," The world of technology is rapidly changing and we must choose to be a part of that change. "
Podium Cue was developed in Norfolk, VA by entrepreneurs participating in the areas first business accelerator, Hatch. The team continues to improve upon its suite of public speaking apps for mobile devices.
Sean Evangelista, Co-Founder of Abide Media, issued the following statement:
"School systems worldwide are incorporating mobile devices into the classroom, and our team is passionate about creating useful tools that help people communicate great ideas and share information. It was very cool to see Dr. Atwater stepping out of his comfort zone by picking up an iPad for the first time to give an address. We are happy we provided him with a great solution in Podium Cue that made his transition from 3x5 cards to technology basically seamless."
Get more info on Abide Medias suite of public speaking apps by going to http://podiumproapp.com