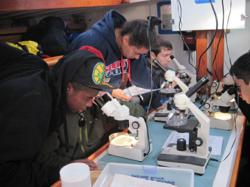 Trish has fought hard to raise the bar for many kids. She's seeing them go off to college and on to careers that use their STEM education. We are proud to contribute to this work
Santa Cruz, CA (PRWEB) March 12, 2013
The reverberations of lessons learned and connections made at software and hardware companies during the high-tech boom of the 80s and 90s are still being felt.
Trish Millines Dziko is a change-maker for others after spending years in the tech world. She has created a focused, effective science, technology, engineering, and math (STEM) education program. Because Carter knew and trusted Dziko, Tees For Your Head has been happy to support Dziko's nonprofit. TFYH has two main areas of interest in philanthropy, which are science and math education, and the environment. The fit with TAF was perfect.
Dziko succeeded in the tech industry, but felt the lack of role models and has worked to change that for others. Her work with students of color led to an interest in providing those students with role models and mentors in the classroom.
TAF supports teachers of color who are helping increase the diversity in STEM fields. TAF and the Martinez Foundation are working to increase the focus on the sciences locally by helping more teachers of color become STEM mentors and role models. TAF reaches students of color through several STEM programs including TAF Academy, which TAF co-manages with Federal Way Public Schools. The Martinez Foundation's fellowship program, for people of color who want to become classroom teachers, includes funding to complete a teacher education program as well as ongoing support during teacher training and once they are hired.
Starting in 2012, several Martinez fellows are selected each year to teach a summer program that serves incoming TAF Academy students. As part of this, TAF teaches fellows how to integrate STEM into interdisciplinary, project-based lessons.
This creates an informal pipeline of highly-qualified teachers of color, like Carlito Umali, for the school.
"Like a lot of schools in this area, we've had trouble finding teachers of color, let alone those with backgrounds and experience in STEM," said Chris Alejano, who leads teacher recruitment and professional development at TAF Academy. "That's a real problem because while we value highly qualified teachers in our classrooms, we also want the makeup of our staff to reflect that of the student populations we serve."
Teacher Umali admits that science, technology, engineering and math were only minimally present in his education, and said that could be why he went into the humanities. Now he has learned to incorporate STEM into his teaching practice at TAF Academy.
"At TAF Academy I work closely with my math and science teaching partner, create unique and engaging projects, and teach beyond the limits of humanities; STEM is integral to my practice. STEM is not isolated from other subjects in the real world, so there's no reason it should be in classrooms, either," said Mr. Umali. "I know what we're doing here gives students a chance to see that they can excel in STEM in real and powerful ways."
Tees For Your Head is glad to be able to broaden the reach of STEM education through Dziko's successful program. "Trish has fought hard to raise the bar for many kids. She's seeing them go off to college and on to careers that use their STEM education," says Carter. "We are proud to contribute to this work."
About TAF
TAF, founded in 1996 as Technology Access Foundation, is a nonprofit whose mission is to equip students of color for success in college and life through the power of a STEM education. TAF serves hundreds of underprivileged youth each year through innovative programs that use interdisciplinary, project-based lessons to connect STEM learning to real life. TAF makes systemic change through creative partnerships, by building on our community's existing investments in public-school facilities and resources to help more students of color succeed in college and STEM-based careers. http://www.techaccess.org/
About Tees For Your Head
The online home of geeky t-shirts for lovers of the arts and sciences was launched in 2012. Husband and wife team Tom Bates and Karin Carter have an arts and science background and create their own designs to appeal to the geeks of the world. Santa Cruz tee shirt designs are in the works for this Santa Cruz-based business.
By the way, Tees For Your Head shirts are worn on the body, not really on the head. Just a helpful hint.
Find their unique and nutty tees at http://www.teesforyourhead.com online now.