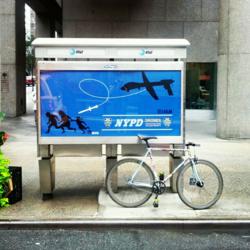 It's about creating a conversation about the possibility of the NYPD authorizing drones to fly in the skies domestically. We have to remember that these devices are, right now, internationally being used to kill people. - ESSAM
New York, NY (PRWEB) March 12, 2013
ESSAM, the artist who received national attention for his controversial artwork depicting New York Police Department drones dropping bombs on innocent civilians, is now facing felony charges related to his series of street signs and NYPD Drone Faux Ad Campaign. The New York City art community has responded by throwing a Free ESSAM benefit in the form of an art auction, hosted by famed rock photographer Clay Patrick McBride this Thursday, March 14 at ANIMAL.
"Weaponized drones…coming to New York City? I'm not sure I'm cool with that," says ESSAM, an Iraq war veteran who worked with drones as a geo-spatial analyst in the U.S. Army. "But we're not having that conversation, so that's what I'm here to start."
Starting the national conversation about drones is exactly what ESSAM did. In addition to winning fans – The Portland Press Herald called the campaign "brilliant" – and grabbing the attention of major media outlets like CNN and the New Yorker, the faux ads also caught the eye of the NYPD. At 6 AM on November 28, 2012, ESSAM was arrested in his home.
According to court documents (People v. ESSAM Adam Attia, #M12702238-J, New York County Criminal Court), ESSAM has been charged with grand larceny, criminal possession of stolen property and 56 counts of possession of a forged instrument. It's estimated that the legal fees associated with defending ESSAM against these charges will be in excess of $25,000, an amount the artist hopes to raise at the Free ESSAM art auction on Thursday.
Items up for bid at the auction include original artwork from ESSAM's NYPD Drone Ad Campaign; a contribution by Tanyth Berekeley, who currently has her art featured in MOMA's permanent collection; Clay Patrick McBride photographs of Kanye West and Jay-Z, and many other one-of-a-kind pieces from well-known NYC artists. A limited-edition run of ESSAM's work will also be available for purchase online at 1xRUN, starting Thursday morning.
"For me it's really about creating a conversation about the possibility of the NYPD authorizing drones to fly in the skies domestically," says ESSAM. "We have to remember that these devices are, right now, internationally being used to kill people."
A recent study by New York University's School of Law and Stanford Law School determined that in Pakistan, U.S. drone strikes kill, maim and traumatize too many civilians and have been largely ineffective. The study, entitled "Living Under Drones", said that only around 2% of the people killed in drone strikes were "high-level" targets.
These drones aren't as accurate as some government officials might like you to believe. The Bureau of Investigative Journalism reported that from June 2004 to September of 2012, drone strikes killed as many as 3,325 people in Pakistan – including 176 children. These figures do not include the individuals who are injured, which adds another 1,228-1,326 civilians whose lives were significantly damaged by U.S. drone use.
So far, the Obama administration hasn't ruled out using drone strikes against U.S. citizens on American soil – and there have already been some shocking casualties. On October 14, 2011 a 16-year-old boy who was born in Denver, Colorado was killed by a drone because he should've had a "more responsible father" – this according to former White House spokesperson Robert Gibbs.
"We see this trend throughout history of military technology always coming to the civilian world," says ESSAM. "It's the age-old philosophy of fear controls people. They're able to do whatever they want as long as we're afraid."
The Free ESSAM art auction and fundraiser will be held at from 7 PM to 11 PM on Thursday March 14. Members of the press are able to come in at 6 PM for photographs, artist interviews and a special meet-and-greet session with ESSAM.
The event will be held at ANIMAL New York, located at 595 11th Avenue in New York City. Those who want to attend the event or bid in the auction are encouraged to RSVP via email at rsvp(at)animalnewyork.com. Reporters interested in learning more about the event or scheduling interviews can contact Kari DePhillips at karilee(at)contentfac.com.