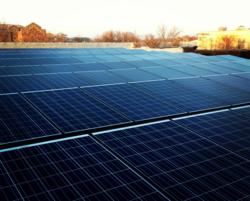 Most commercial systems pay for themselves within 1.5 to 2 years...
St. Louis, MO (PRWEB) March 13, 2013
On March 11, 2013, Lafser & Associates, Inc. completed a 24 kilowatt (kW) photovoltaic (PV) system for Sheila Burkett's, Tuxedo Park Leasing, LLC at the historic 2710 Lafayette Avenue property in St. Louis, Missouri. The system consists of 96, 250 watt panels that will produce an estimated 29,589 kilo-watt hour (kWh) per year. This production will offset the facility's energy consumption by roughly 53%. This translates into energy savings of over $98,000 for the 25 year lifetime of the system. Most commercial solar energy systems pay for themselves within one and a half to two years due to the available tax credits and rebates from utility companies and the federal government. Renewable solar energy reduces emissions by not consuming energy off the grid and is a price hedge against rising energy costs. Recent legislation has given consumers until the end of 2016 to take advantage of the 30% federal tax credit on solar energy systems.
About Lafser
Lafser & Associates, Inc. are leading environmental and historical consultants in St. Louis and Columbia, Missouri with over 30 years of experience and expertise in the field of historic preservation; environmental assessment and remediation; and solar energy. Lafser & Associates assists in redeveloping or improving the value of residential or commercial property by designing and implementing the most cost-effective redevelopment and remediation solutions customized to meet the specific needs of their clients.
Lafser & Associates are leading historical consultants specializing in every stage of historic preservation. Lafser takes great pride in assisting clients with the rehabilitation and development of their historic properties. They become the liaison for our clients with city officials, local reservation boards, State Historic Preservation Offices and the National Park Service. With highly principled skills helping their clients bring projects to a successful and productive completion that is beneficial for both the client and their local historic communities.
With over 30 years' experience and expertise in the redevelopment of historic properties, Lafser & Associates worked on the very first state-approved historic preservation project in Missouri with the Governor's Hotel.