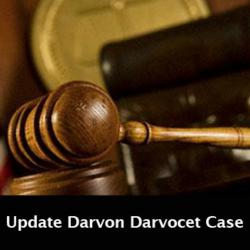 If you or someone you love suffered a heart attack, heart arrhythmia, or sudden death due to Darvon/Darvocet, please visit yourlegalhelp.com, or call 1-800-399-0795 to learn more about your options.
Dayton, OH (PRWEB) March 15, 2013
Wright & Schulte LLC, an experienced drug injury law firm, reports that Judge Reeves reinstated failure to warn claims against aaiPharma after dismissing them last March. Judge Reeves centered his decision on a controversial 2011 'preemptive' ruling by the U.S. Supreme Court that generic drug manufacturers are protected from failure to warn lawsuits because they are federally required to carry the same warning labels as their brand name counterparts. This High Court ruling allows generic drug manufacturers to avoid liability for dangerous side effects, even if the generic manufacturer knows about the dangers.
Judge Reeves also decided that his interpretation of the High Court ruling barred the plaintiffs charges of breach of implied warranty, negligent marketing, defective design, strict liability and negligent design as well, writing in his decision that generic drug makers have a 'federal duty of sameness' that requires generic drugs to made the same as the brand name version, which prevents them from being responsible for those charges. Judge Reeves made his ruling March 1, 2013, after the plaintiff was able to show that he consumed Darvocet while it was being manufactured by aaiPharma. (Darvocet, Darvon and Propoxyphene. Products Liability Litigation – MDL 2226)
Darvon Darvocet Multidistrict Litigation
In November 2010 the Propoxyphene painkillers Darvon and Darvocet and their generic counterparts were pulled from the market after studies found that when taken at normal dosages, the drugs were causing serious side effects in healthy people. These side effects include heart arrhythmia, heart attack and sudden death. (http://www.citizen.org/Document.Doc?id=29)
Hundreds of federally filed Darvon and Darvocet injury lawsuits were consolidated by the U.S. Judicial Panel for Multidistrict Litigation in June 2012 to the U.S. District Court for the Eastern District of Kentucky under Judge Reeves. Wright & Schulte LLC partner Richard Schulte is serving as Co-Lead Council in the MDL.
Darvocet Darvon Side Effects
The opioid Propoxyphene is sold as Darvon or when combined with acetaminophen as Darvocet. It first hit the market in 1957 and became a widely prescribed painkiller. While the drugs had been pulled from the European market in 2009, the U.S. Food and Drug Administration only required a stronger warning label. In 2010, with some 10 million users in the U.S. alone, the government agency issued a ban on the drugs after it found that recommended dosages given to healthy individuals increased the risks of:

Suicide
Overdose
Heart attack
Heart arrhythmia
Sudden death
About Wright & Schulte LLC
Wright & Schulte LLC, an experienced drug injury law firm, is dedicated to the belief that America's legal system should work for the people. Every day, the attorneys of Wright & Schulte LLC stand up for the rights of people who have been injured or wronged, and fight tirelessly to ensure that even the world's most powerful corporations take responsibility for their actions. If you've been injured due to a harmful drug side effect, we urge you to contact Wright & Schulte LLC today through yourlegalhelp.com, or call 1-800-399-0795.
Contact:
Wright & Schulte LLC
812 East National Road
Vandalia, Ohio 45377
1-800-399-0795