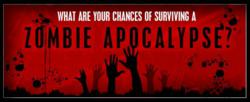 helping millions get in shape to survive the zombie apocalypse
PUNTA GORDA, FL (PRWEB) March 12, 2013
The Zombie Apocalypse Survival Workout is revolutionizing at home fitness routines. The routine has been specifically designed with four phases to cover all areas of training and maximize results. John Romaniello founder of the very successful Roman Fitness Systems is the creator of the Zombie Workout. John knows his fitness. His articles have appeared in some of the most respected health and fitness publications in the world. Not only that, he has also appeared on ABC, Good Morning America, and other major TV programs. "I was struggling with getting back into shape due to years of not training. I wanted to get ripped and shed fat quickly and was searching for a great workout routine. I found the Zombie Workout online and after reading it I knew it was what I needed. Just days into the workout I was already feeling better and seeing results. Eight weeks later I was on my way to legendary status in the physique game and already insanely shredded!" Kyle Breiner excitedly states.
The four phases of the Zombie Survival Workout are the reason this workout is helping millions to look the best they ever have. Phase 1 Zombie Survival 101 is the conditioning phase. This phase focuses on the most important thing people need to survive zombies and that's cardio. If someone can't run hard and for a long distance than chances of outrunning an immortal zombie aren't good. Phase 2 Zombie Escape Strength is the relative strength phase. This phase focuses primarily on strength. It helps drastically to be able to climb trees and walls quickly when in need of escaping a vicious zombie. Phase 3 is Zombie Skull Crushing. This phase focuses on absolute strength. Sooner or later it is likely that someone will not always be able to outrun or escape a zombie attack. This phase is great because it will help anyone build bone crushing strength to destroy a zombie when no escape route is available. "Phase 3 was my favorite because it let me work on building my strength up that had been lagging recently due to years of not training and poor eating habits," states Kyle Breiner, "In hardly anytime my strength started to increase and I felt like a beast. Phase 4 Ultimate Zombie Domination brings it all together and focuses on overall fitness. By the time people reach this stage they are already in incredible shape and completely prepared to survive the coming zombie apocalypse. This final phase will help people take that next step so that not only will they be able to annihilate a regular, run-of-the-mill zombie, but they will even be able to take on the zombie overlord, should he present himself.
Anyone who is looking to take their fitness and physique to the next level can discover this workout at its website here. Don't waste another day. The future will not start to change based on what people think about doing, it starts to change based on what people are doing. Start today.