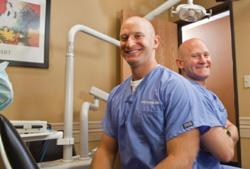 Austin, Texas (PRWEB) March 13, 2013
March is National Nutrition Month. The Round Rock and Austin dentists at Family Tree Dental Group want to help raise awareness about the importance of making informed food choices and developing sound eating habits. Not only does proper nutrition affect the overall body, but it plays a big role in the development of maintenance of the mouth and teeth.
"Everyone knows that eating poorly can cause us to gain weight or feel sluggish," said Dr. Chad Denman, Austin dentist / Round Rock dentist and owner of Family Tree Dental Group. "But what people may not realize is that poor food choices can directly affect your teeth too. For example, the same sugar that leads to a few extra pounds is also doing damage in your mouth."
As it relates to oral healthcare, Family Tree Dental Group has put together a list of nutrition tips to start putting into practice during National Nutrition Month. These suggestions will help protect smiles, and the rest of the body will benefit too:
1) Dental health starts before birth. Moms-to-be should consume foods with calcium (like dairy products, whole grains and leafy greens) to ensure proper development of the teeth of their infants.
2) Instead of candy or sweets as snacks, opt for healthy choices like string cheese. It is high in calcium, stimulates saliva production and counteracts chemicals that can destroy tooth enamel.
3) Most fruit juices, soft drinks and sports drinks have high acidic levels, which can lead to a type of tooth decay called dental erosion. Choose water instead, whenever possible.
4) Don't brush right after a meal. Wait 30 minutes so saliva has a chance to neutralize the acids that soften tooth enamel. When enamel is in this weakened state, the act of brushing teeth can do more damage than good.
5) While it's always a good idea to stay away from processed foods for total body health, unprocessed foods can also help teeth in a different way. Eating crunchy foods like raw vegetables and harder fruits like apples can help keep the teeth clean through the simple act of crunching.
6) Decrease snacking when possible. Food eaten as part of a meal causes less harm to teeth because more saliva is released during a meal as opposed to during snack times. Saliva helps wash foods from the mouth and lessens the effects of acids.
7) When feeding the kids, make sure meals include a source of protein and dairy, as they both aid in the building of strong bones and teeth.
8) Skip the raisins. While they may be billed as "nature's candy," raisins are notoriously high in sugar content. In addition they are sticky enough to cling to teeth long after snack time is over, putting them high on the list of cavity-causing foods.
Family Tree Dental Group was founded in 2011 by Austin dentists - Round Rock dentists and identical twin brothers Drs. Chad and Shelby Denman to provide high quality dental care in a state-of-the-art environment with careful attention to detail and deep personal respect. Family Tree Dental Group helps maintain the oral health of patients of all ages and cares for all dental needs under one roof. For more information, call (512) 458-5999 in Austin, (512) 310-3999 in Round Rock, or visit http://www.FamilyTreeDentalGroup.com.