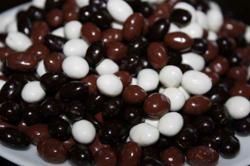 " I am so proud to put my name to this product. Our family has been working for years to perfect a tasty snack that is healthy for families, we hope you enjoy Almost Nuts! as much as we do."
Denmark, WI (PRWEB) March 12, 2013
Almost Nuts!, Roasted-Soybean Pioneers, releases information on their New Goals for Expansion for 2013, their continued efforts to support Non-GMO farmers, and a look into why Roasted Soybeans didn't seem like such a "Nutty" idea.
The Kornowske family tells the story that the idea of roasted soybeans seemed to hit them like, well, a Sack of Soybeans! During the winter of 1998 Mr.Kornowske was poised upon his tractor, preparing the fields for next years crop, when it hit him- why not roast these?! After a few years of research, and cooking up some tasty batches of roasted beans, the Kornowske's are planning to go nationwide with their healthy snack.
Recently, with the increased buzz on food education, and a global push for Non-GMO products, the Kornowske's are proud to support causes like The Organic & Non-GMO Report, Institute for Responsible Technology and maintain a commitment to providing families the safest soy products available.
Almost Nuts! can be found at a variety of stores in the Wisconsin area, but with their new expansion goals they recently launched a their new website serving customers nationwide. The new online storefront will allow their healthy snack to reach consumers all over the country. New customers who would like to try a bag have now have the option of receiving a free bag at a reduced shipping and handling cost. Or they can go ahead and buy 8 bags to receive free shipping! Almost Nuts! is on a mission to get their healthy snack into the hands of families everywhere!
Darren Kornowske, founder and President of Almost Nuts! tells the public, " I am so proud to put my name to this product. Our family has been working for years to perfect a tasty snack that is healthy for families, we hope you enjoy Almost Nuts! as much as we do."
Whether covered in Milk Chocolate, Yogurt, or Dark chocolate, the Kornowske family is proud to present the healthy, oven baked snacks for everyone to enjoy. Packed with 12 grams of Protein, and a Low-Sugar snack, Almost Nuts is commitment to supporting Non-GMO farmers and small growers nationwide while providing a healthy, delicious, affordable snack. Keep connected with Almost Nuts and upcoming news and new products on Facebook, Twitter, Google +, Pinterest, and You Tube.