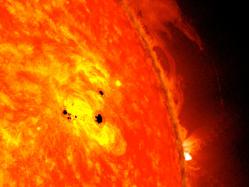 . "The sun is the main driver of climate change. Not you. Not CO2 – carbon dioxide."
Calgary, Alberta, Canada (PRWEB) March 12, 2013
Climate catastrophe thinking about global warming and carbon dioxide is not supported by scientific evidence, say Friends of Science.
"The recent publication of Thomas Friedman's op-ed, which calls for extreme civil disobedience in the event that Keystone XL Pipeline is approved, is based on faulty science," says Len Maier, president of the Friends of Science. "The sun is the main driver of climate change. Not you. Not CO2 – carbon dioxide."
Friends of Science note that despite a rise in carbon dioxide, global temperatures have been cooling.
"Why isn't the influence of the solar magnetic flux on climate change reported on in the New York Times?" asks Maier. "People are not getting a complete scientific story. Consequently public policies based on inaccurate scientific evidence are killing potential jobs and gutting American manufacturing. "
Friends of Science is a non-profit, volunteer group of retired earth and atmospheric scientists who have been reviewing climate change papers for the past decade.
"It is time we re-examine the scientific premises, in a thoughtful, objective manner," "says Ken Gregory, director of Friends of Science. "The UK Met Weather office reported last fall that global warming stopped 16 years ago. Rajendra Pachauri, Chairperson of the UN Climate Panel (Intergovernmental Panel on Climate Change - IPCC) recently agreed there has been no warming in 17 years."
Far from a pollutant or threat, Friends of Science state that carbon dioxide is essential for life.
"NASA acknowledges that water vapor is a wild card in the climate debate. Water vapor is the most important greenhouse gas," says Gregory, author of several papers on the subject of climate change. "Both satellite and weather balloon data show declining upper atmosphere water vapor. This offsets most of the presumed warming effect of CO2 and allows heat to escape to space."
"We stand for the scientific method and objective review of data. The major objections to Keystone XL Pipeline and to Alberta's oil sands production are related to catastrophic fears of carbon emissions and the alleged threat of global warming," says Maier. "The IPCC ignores a huge body of scientific evidence that the sun drives climate, falsely attributing the sun's effects to carbon dioxide."
Friends of Science further point out that the current sun cycle is about to decline into a minimum, typically a time of cooling on earth.
"Global cooling poses a larger threat to civilization," says Len Maier, a retired engineer, environmentalist and tree farmer. "Cooler temperatures lead to violent weather extremes as were seen during the Little Ice Age when, in 1413, the seaside village of Forvie in Scotland was buried under 30 meters of sand in a 9 day storm."
Historical studies such as "Little Ice Age: How Climate Made History 1300-1850" by Brian Fagan document the civil chaos that ensues when temperatures drop, growing seasons shrink and governments are unprepared for years of famine.
"Government policy should be founded on scientific evidence, and we should learn from history. Scientific and historic evidence forcefully illustrate that the sun and its cycles are the main drivers of climate change. Not CO2," says Maier.
To explore the tragic consequences of poor public policy based on faulty science and climate catastrophe thinking, Friends of Science will be hosting Dr. Benny Peiser of the Global Warming Policy Foundation of the UK.
Dr. Peiser will be the guest speaker at the 10th Annual Friends of Science luncheon May 14, 2013 at Calgary's Met Centre. His topic - "To Heat or Eat: Europe's Climate Policy Fiasco" will examine how a combination of carbon taxes, closure of coal plants and the 'rush to renewables' have sent fuel prices sky-high in most of Europe, forcing millions of people to ration food in order to heat their homes.
About Friends of Science
Friends of Science have spent a decade reviewing a broad spectrum of literature on climate change and have concluded the sun is the main driver of climate change, not carbon dioxide (CO2). The core group of the Friends of Science is made up of retired earth and atmospheric scientists.
Friends of Science
P.O.Box 23167, Connaught P.O.
Calgary, Alberta
Canada T2S 3B1
Toll-free Telephone: 1-888-789-9597
friendsofscience.org
E-mail: contact(at)friendsofscience(dot)org