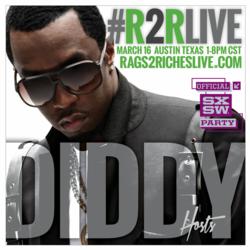 "This event is packed with up-and-coming break out artists and will be one live event that no one will want to miss,"
Austin, TX (PRWEB) March 12, 2013
Cinsay and the Recording Artists Guilds' live music event (R2RLIVE.com) hosted during the South By Southwest Music Festival will play host to several new artists buzzing the media this week. Several top musical artists and bands listed by Time Magazine, Fuse Music Television and The Daily Beast include bands performing at R2RLIVE's Saturday, March 16th eConcert hosted by Sean Diddy Combs.
Time Magazine lists Kitten as one of their top choices and says, "(Kitten) has an '80s vibe that is punchy, catchy and absolutely dance-worthy". Fuse Music also lists Kitten as a 'must see' group. Skylar Grey makes The Daily Beasts' top 13-list of groups to see at SXSW and funk-induced newcomers, The Tontons, make several media lists as well.
"We've worked hard to put together a compelling and varied group of very talented musicians to launch the world's first and biggest social video eCommerce R2RLIVE music event with the Recording Artists Guild. This event is packed with up-and-coming break out artists and will be one live event that no one will want to miss," said Christian Briggs, CEO and Founder of Cinsay.
The event will be hosted live and online employing Cinsay's patented Smart Store™ technology where viewers will have the opportunity to shop for hundreds of unique and branded items while watching the live webcast from the web or mobile devices. Also, viewers will be able to share the eConcert with friends via Facebook and twitter while adding their own comments.
The 'Rags 2 Riches' event at Brush Square Park is open to credentialed SXSW ticket holders and the press. Gates open at 1:00 PM CST at the Brush Square Park venue in downtown Austin. Performances also begin at 1:00 PM and end at around 8:00 PM. Over 12 musical artists will perform sets during the live video stream. The event will feature special guests, DJs, SXSW celebrity interviews from 2013 film and interactive sessions and the Cinsay RAGs 2 Riches music contest.
Registration to attend the event and watch online is open at R2RLive.com. Follow news and updates about the event by registering at the R2RLIVE page and via Twitter hashtag #R2RLIVE.
WHAT: Cinsay/RAG: Rags 2 Riches Live Music Event
WHERE: Brush Square Park, 409 E. 5th Street, Austin, Texas 78701
WHEN: March 16, 2013 @ SXSW – 1:00 PM – 8:00 PM CST.
COST: Free to credentialed SXSW badge holders, invited guests and music wristband holders.
ONLINE: R2RLive.com