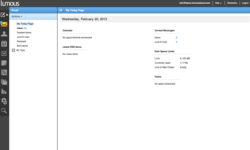 Portland, Oregon (PRWEB) March 12, 2013
Lumous, a Cloud Services Provider, announced today the launch of its new Hosted Email Platform "Lumous Mail," powered by SmarterTool's SmarterMail 11. Completely integrated with its existing customer dashboard, the new email platform merges a powerful email system, with collaboration tools like shared contacts & calendaring. Lumous Mail supports all major mobile devices and desktops with Exchange Web Services (EWS) & ActiveSync, plus open protocols like IMAP, CalDAV & CardDAV.
With plans starting at $1.99 per month, Lumous Mail is designed to offer a low entry point for individuals and teams wanting all the benefits of an Exchange email solution, but without the cost. And, because Lumous Mail supports all major connection protocols, users have the flexibility to continue using their favorite device or mail client.
About Lumous
Lumous is an innovative cloud services provider specializing in highly-available, elastic, cloud virtual machines. With powerful management tools, individual developers or large teams can quickly and easily manage and scale from one to many virtual machines. Used by developers worldwide, Lumous supports any app running on Windows, Linux, and FreeBSD. Lumous is a private company headquartered in Portland, Oregon. Please visit http://lumous.io to learn more.