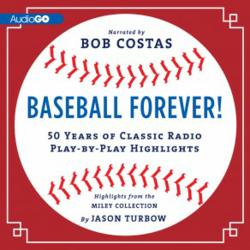 It's a treasure trove of memories for baseball fans and those interested in the history of broadcasting.
North Kingstown, RI (PRWEB) March 12, 2013
Narrated by acclaimed sports journalist and baseball fan Bob Costas, BASEBALL FOREVER!: 50 YEARS OF CLASSIC RADIO PLAY-BY-PLAY HIGHLIGHTS contains historical moments from the largest private collection of baseball broadcasts as compiled by amateur collector-cum-archivist extraordinaire, John Miley. From Bill Mazeroski's homer and the Shot Heard 'Round the World to amazing feats, like Carl Hubbell striking out Babe Ruth, Lou Gehrig, Jimmy Foxx, Al Simmons, and Joe Cronin—in order—at the 1934 All-Star Game. BASEBALL FOREVER! includes numerous clips that are only now available for the first time since their original transmission during the Golden Age of radio.
"The John Miley collection is one-of-a-kind," Costas said. "I met John in the 1970s early in my broadcasting career, and we have been friends ever since. I'm very pleased to have the chance to narrate this unique program. It's a treasure trove of memories for baseball fans and those interested in the history of broadcasting."
Bestselling author Jason Turbow (The Baseball Codes) mined the archive with Miley himself, taking us to some of baseball's greatest settings—Yankee Stadium, Ebbetts Field, Fenway Park—to hear colorful commentary from the game's legendary broadcasters, like Mel Allen, Red Barber, Harry Caray, and Vin Scully. Miley and Turbow have carefully selected an abundance of highlights for BASEBALL FOREVER!. Perfect for baseball enthusiasts of all ages, this collection is an instant classic, sure to inform, entertain, and appeal to anybody nostalgic for the favored sport's storied history.
"Jason Turbow has done a stellar job stringing together the best moments of the golden age of baseball broadcasting into an audio program that would convey the breadth of Miley's amazing collection," said AudioGO Senior Editor Thomas Dobrowolski who commissioned the program. "We couldn't be more fortunate to have a living legend and true fan of the game like Bob Costas on board to narrate this program."
BASEBALL FOREVER! is available as a CD and via digital download at retailers everywhere.
ABOUT BOB COSTAS
Bob Costas has won twenty-four Emmy Awards—more than any other sports broadcaster—and been a prominent part of the coverage of every major sport over the past three decades. His versatility has been recognized with awards and nominations in the categories of hosting, play-by-play, writing, journalism, news, and entertainment. He is the only person ever to have won Emmys in news, sports, and entertainment. Bob's peers have named him the "National Sportscaster of the Year" a record eight times, and in 2012, he was elected to the National Sportscasters and Sportswriters Hall of Fame and selected for the Walter Cronkite Award for distinction in journalism. Bob's thoughtful commentaries on a variety of issues have established him as one of his generation's most distinctive voices.
ABOUT JASON TURBOW
Jason Turbow is the author of THE BASEBALL CODES (Pantheon, 2010), which NPR called "one of the all–time greats," and writes for THE NEW YORK TIMES, THE WALL STREET JOURNAL, and SPORTS ILLUSTRATED, among other publications. He lives in the San Francisco Bay Area with his wife and two children.
ABOUT AUDIOGO
AudioGO, the home of BBC Audiobooks, is a leading publisher of distinctive single-voiced and full-cast dramatized audiobooks in the United States and Canada. We are the exclusive North American distributor for BBC Audiobooks, one of the most prolific publishers of complete and unabridged audiobooks and radio dramatizations in the world today. AudioGO distributes product direct to libraries across North America and to retailers via Perseus Distribution. For more information, visit our websites: http://www.audiogo.com and http://www.audiogo-library.com.