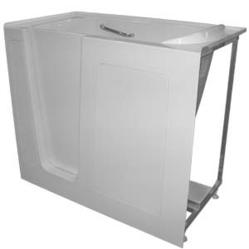 Now our customers can get easily order parts for walk in bathtubs and handicap shower systems from the comfort of home.
Denver, CO (PRWEB) March 12, 2013
A leading Senior bathtubs provider, Aging Safely announces they will now be supplying parts nationally for walk in bathtubs and roll in shower stalls. The company will now be offering individual parts available for purchase, without the requirement of buying a full bath or shower appliance. The company will now offer a full spectrum of universal options for handicap shower systems, transfer bathtubs and walk in tubs; such as shower pans, roman faucets, thermal mixing valves, pumps, controls and handheld showers.
According to Aging Safely, many walk in bathtubs and roll in shower stalls on the market today have parts that can be replaced universally when worn out. In contrast some senior bathtubs may require specialty brand parts, in which universal parts most likely will not work. Typically the motors for the water or air jets are located below the bathtub, which makes switching out a replacement in most cases relatively easy.
Aging Safely is a leading national supplier of walk in bathtubs and roll in shower stalls that specializes in providing bathroom safety products that can help assist in aging in place successfully. Traditionally the bathtub can be an incredibly dangerous area of the home and there are numerous injuries that happen every year from someone falling in the bathtub. Senior citizens and the elderly can be especially prone to having a fall in the bathtub that leads to injury. Walk in tubs and handicap shower stalls can potentially help mitigate the risks associated with bathing and are a great resource for senior citizens and people with mobility restrictions to bathe independently.
These specialty walk in tub appliances surprisingly require very little maintenance, however in the event a homeowner needs replacement parts; Aging Safely offers some of the lowest prices nationally on popular brands. Several of the parts now available are very specialized and might be hard to come by locally. Parts such as water stopper thresholds for handicap shower stalls, and controls for air jets can now be easily ordered by contacting an Aging Safely representative.
The company will also be offering nursing homes and assisted living facilities additional discounts in an effort to earn their long term business for walk in bathtubs and handicap shower stalls. Senior living facilities and homeowners alike are invited to contact an Aging Safely representative for a no cost consultation. Customer service representatives can help customers decipher the best walk in tub or roll in shower product per their individual needs.
Contact Information:
Zachary Wennstedt
info(at)agingsafelybaths(dot)com
1-888-779-BATH(2284)