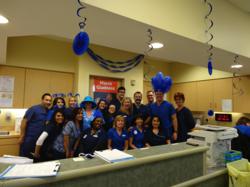 My goal in creating the video was to bring attention to Colon Cancer Awareness. If one person sees it and is encouraged to schedule a colonoscopy, then it was worth the effort
Plano, TX (PRWEB) March 13, 2013
Kenneth Brown, M.D. wanted to highlight Colon Cancer Awareness by creating a video that addresses the importance of colon screenings. The video also targets many of the apprehensions and questions that patients have about the colonoscopy procedure. Dr. Brown elected to be the patient during the video; providing commentary and active dialogue with Arshad Malik, M.D. who performed the Colonoscopy . In order to do this and to provide a unique viewpoint, Dr. Brown chose not to take anesthesia during the procedure.
"My goal in creating the video was to bring attention to Colon Cancer Awareness. If one person sees it and is encouraged to schedule a colonoscopy, then it was worth the effort," said Kenneth Brown, M.D. Some of the key takeaways Dr. Brown wants viewers to grasp about a colonoscopy are:

This is a painless procedure. Although Dr. Brown did the procedure without any
anesthesia; patients are sedated.

The procedure is very private. The staff is not staring at your bottom; most of your body is
completely covered. Instead, all eyes are focused on the screen.

The screening is done in order to detect and remove cancerous polyps.
The colonoscopy procedure takes only 20-30 minutes to perform.
The video will give first-hand perspective of what it's like to get a colonoscopy.
The colonoscopy prep is the most important part. Patients need to follow instructions and
do this well.
March is National Colorectal Cancer Awareness Month. It is a national movement to increase awareness and education about colorectal cancer. It also aims to spread the message that colorectal cancer is preventable, treatable, and beatable. Colorectal cancer is one of only a few cancers that can be prevented through the use of screening tests, yet colorectal cancer remains the second most common cause of cancer deaths for men and women in the United States according to the American Cancer Society.
Board-certified gastroenterologist, Kenneth Brown, M.D., encourages everyone to spread the word, that colorectal cancer is one of the most treatable cancers when caught early. Many of the colon cancer deaths expected in 2013 can be avoided with higher participation rates in screening colonoscopies. "I hope that those viewing the video see how easy and painless this procedure really is, and share that sentiment with friends and family," said Dr. Brown.
Dr. Kenneth Brown encourages those with questions about colonoscopy or other gastrointestinal issues to view his website – http://www.KennethBrownMD.com or call his office at (972) 867-0019.
by Kenneth Brown, M.D. – 1600 Coit Rd Suite 301 Plano, TX 75075 (972) 867-0019