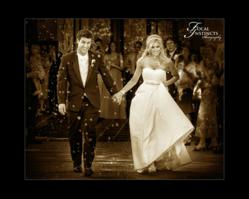 Corona, California (PRWEB) March 14, 2013
Kat Meezan, naturally elated over her win says, "I'm so excited to share that Focal Instincts Photography, was awarded the PPC's Western Division prestigious Wedding Photo Journalism Photographer of the Year Award on March 5, 2013."
Meezan further shares "Being awarded the Wedding Photo Journalism Photographer of the Year is such an honor. I know I and my fellow photographers who also entered images in this category, worked very hard to achieve this award and I would like to thank the PPC as well as all my supportive family, friends and clients!"
Attached is the winning image titled "Clean Getaway." Additionally, "Clean Getaway," won "Best in Class" for the Wedding Photography category at the Inland Empire Professional Photographers chapter of PPA in the September, 2012 print competition.
About Kat Meezan and Focal Instincts
Focal Instincts Photography specializes in fine art portraiture as well as local and destination special event/wedding photography. Kat has been trained in capturing extraordinary people, places and events and her intention is to capture the spirit of the person, the feel of the event, as well as the essence of amazing locations and extraordinary moments. Kat's fine art portraiture is artistically stylized and edited using the most state of the art software and editing tools available. To learn more, please contact focalinstincts.com.
About The Professional Photographers of California (PPC)
The Professional Photographers of California is a non-profit trade organization dedicated to enhancing photography through the passionate pursuit of education, sharing and unity. As one of the largest state affiliates in the nation, we have been inspiring our members with a wide variety of opportunities to inspire and enhance their artistic passion, photographic skill, knowledge and business abilities for over 60 years.