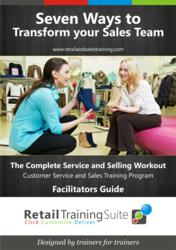 Many sales courses contain a lot of 'fluff' – information that is more of a nice to know than need to know.
(PRWEB) March 12, 2013
Training retail staff in today's environment is challenging; there simply isn't the money available to fund external courses, nor is there a lot of time to take staff off the floor. Then there is the challenge of immediately needing staff to get up to speed, with very little fat in the wage budget to fund a buddy to work alongside them. But managers don't need to invest a lot of time or money on retail training; there is a quick and easy solution for today's challenges.
There are generally six or seven things top performers consistently do that mediocre employees don't. If managers focus training retail staff on these key behaviors, a noticeable lift in sales and service will occur. The 80/20 rule applies to retail training as it does most things in life. We just need to pinpoint the 20%, which is exactly what Authentic Training company founder Melissa Davies has done.
Melissa says, "many sales courses contain a lot of 'fluff' – information that is more of a 'nice to know' than 'need to know' with techniques that, while interesting in a classroom context, just don't translate to the shop floor. You can oversell sales training, just as you can oversell a product; thereby diluting the impact of the six or seven skills that do make a difference. Our company has developed a retail training package focused on seven solutions for standout service and selling. We've taken the best techniques and created the perfect training package for managers wanting to achieve rapid results on a shoestring budget," says Melissa.
Authentic Training specializes in developing innovative retail and sales training packages. In a done for you format the package is easy and fun to deliver so that managers, regardless of their budget, can deliver a world class training solution themselves.
Further information:
Melissa Davies, Company Founder
Authentic Training
http://www.retailandsalestraining.com