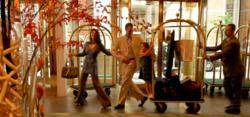 Boston is loaded with great companies and institutions, which sets the bar very high for companies to be chosen as 'most admired' by readers
(PRWEB) March 15, 2013
Seaport Boston and Boston Harbor Hotel were two of the hotels that won the award under the hotel category during the Boston Business Journal's "Most Admired Companies, CEOs and Brands earlier this month. Aside from the hotels' renowned 5 star amenities and services, both hotels also offer PURE Rooms to their guests, ensuring allergy-friendly accommodations by treating surfaces and supplying clean fresh air through the PURE air purifying system.
The third annual event, which had Boston Mayor Thomas M. Menino as the keynote speaker was held last March 1 at the Sheraton Boston Hotel. The event featured some of the most prominent and well-respected CEOs and businesses in the region.
Awardees were determined through the Boston Business Journal website, the boston.bizjournals.com wherein readers were asked to submit nominees in the given categories. During the event, the selected readers-choice finalists were announced. Aside from the Hotel category, other categories include Restaurant, Hotel, Financial Institution, etc.
"Boston is loaded with great companies and institutions, which sets the bar very high for companies to be chosen as 'most admired' by readers," said Chris McIntosh, publisher of the BBJ. "Companies become the most admired for many reasons, but none more than consistently surpassing customers' expectations. We look forward to hearing more from these leaders at our third Most Admired Companies' event."
The Seaport Boston Hotel is located along the Boston waterfront in the Seaport District, offering city and harbor views and access to major tourist attractions such as the Financial District, Freedom Trail, Faneuil Hall and the North End. They offer complimentary wireless internet access throughout the hotel as well as fitness facilities and indoor heated pool. Meanwhile Boston Harbor Hotel is situated along one of the country's oldest wharf, Rowes Wharf. It is built on the site of the 17th century battery and has been awarded the Forbes Travel Guide Five Star Award and is listed by the Condé Nast Traveler as one of the "World's Best Places to Stay." Both hotels offer allergy-friendly accommodations by tying up with the PURE technology.
The PURE technology is a 7-step purification process designed to treat all surfaces including the air to remove up to 99% of pollutants so hotel guests who are booked in a PURE Room can enjoy fresh air, breathe easy and rest comfortably. The company's air purification system is made to protect a person from airborne irritants and eliminates odor right at the source. Aside from air filters, PURE also provides hypoallergenic mattress and pillow cases. Furthermore, carpets, upholstery and all surfaces in a PURE Room are deep cleansed and carefully treated. Room maintenance is conducted on a regular basis to keep PURE Rooms allergy-friendly at all times.
About PURE
PURE is a company who is committed to providing solutions that allow individuals to live a clean, quality lifestyle, at home or on the go. Aside from focusing on allergy-friendly options for the home as well as their 7-step purification process in PURE Rooms, PURE is also working to BRING its technology to schools, offices and retail outlets worldwide. Aside from air purifiers, PURE products include pillow and mattress encasements, anti-allergen spray and tea tree oil.
About Boston Harbor Hotel
Boston Harbor Hotel is located along Rowes Wharf and is a showcase of award-winning restaurants, superb shopping, a deluxe spa and state of the art fitness center. They cater to guests seeking for a romantic getaway, a business seminar or simply a weekend of relaxation. The hotel prides itself on five star accommodations, services and quality.
http://www.bhh.com
About Seaport Boston
The Seaport Boston Hotel promises its visitors a refreshingly different style and service, whether their stay is for business or pleasure. Located along the bustling Seaport District, it offers luxury accommodations, delicious dining and world class services and amenities. The staff's goal is to offer guests a stress free and memorable stay in this luxurious five star hotel.
http://www.seaportboston.com