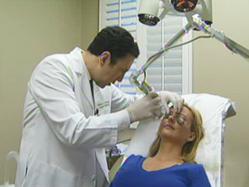 Los Angeles, CA (PRWEB) March 12, 2013
According to a February 26, 2013 Elle Magazine report companies that develop skin care products are touting the use of stem cells for their regenerative properties. Treatments involving stem cells could also potentially supplement cosmetic medical procedures such as laser skin resurfacing. (Go to: goo.gl/DjGGp).
Throughout the medical field, there are studies being performed using stem cells in an attempt to cure various physical ailments and degenerative conditions. The cosmetics industry is copying the trend, attempting to use stem cells to reduce the signs of aging or to improve one's general appearance.
"As is often the case, publicity and buzz run far ahead of actual scientific fact," says Dr. Simon Ourian, Medical Director of Epione Beverly Hills. "We are only at the beginning stages of research and development with stem cells and it's too soon to tell what will ultimately turn out to be the most effective way to utilize stem cells for anti-aging products and procedures."
For consumers seeking youth in a jar, it is important to realize that actual stem cells will not be found in any over the counter lotions or skin care products. Research has not advanced far enough to keep stem cells alive in that medium. What is found in creams and lotions are the growth factors and proteins that are synthesized by the cells. In most cases these come from plant matter though there is at least one company working with donated, unfertilized human eggs.
"As it mentions in the article, not many placebo-controlled studies have been done," concludes Dr. Ourian, "so there remains a lot of work to be done and much information to be gleaned. Given the stakes and the players, I expect that a substantial amount of money will be poured into this research and I'd be surprised if the science isn't significantly advanced over the next few years."
Dr. Ourian has been a pioneer in laser technology and non-invasive aesthetic procedures including Restylane, Juvéderm, Radiesse and Sculptra. These treatments are used for the correction or reversal of a variety of conditions such as acne, acne scars, skin discoloration, wrinkles, stretch marks, varicose veins, cellulite, and others. More information about stem cell developments can be found on Epione's website.