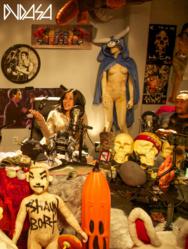 Artist David Choe and award-winning adult film star Asa Akira welcome journalist Lisa Ling as upcoming guest tonight to talk about North Korea, bride burning in India and transsexuals, among other eclectic topics
Los Angeles, CA (PRWEB) March 12, 2013
American Artist David Choe and award-winning adult film star Asa Akira welcome journalist Lisa Ling as upcoming guest tonight to talk about North Korea, bride burning in India and transsexuals, among other eclectic topics, on their hit lifestyle/sexuality podcast DVDASA.
"I'm humbled by Lisa Ling tonight - my hero, my role model and the baddest woman I know... who showed up to DVDASA and answered every single question and didn't flinch. Did her sister sleep with Bill after he rescued her from North Korea? Find out at dvdasa.com. Real life super hero and real life gangster...she's investigated secret societies underneath Vegas, MS13 controlled prisons in South America, bride burning in India, gang rape in the Congo, the Lord's Resistance Army in Uganda, child trafficking in Ghana, female suicide bombers, amateur pornographers, modern polygamist societies and of course, our favorite topic: transsexuals. She is fearless... #chineseloislane," says David Choe.
The episode airs tonight, March 12, at itunes.dvdasa.com.
DVDASA continues to be a top-rated lifestyle/sexuality podcast on iTunes and since its launch in January of this year, has hosted an array of noteworthy names in art and entertainment alike.
An American painter, muralist, graffiti artist, graphic novelist and altruist, David Choe has been featured in 20/20 with Barbara Walters, the Howard Stern show, parts unknown with Anthony Bourdain and the Joe Rogan Experience, among others. He frequently gets his accounts on Youtube, Vimeo, Instagram, Facebook, Liveleak, Redtube and Daily Motion disabled or banned. David Choe has made a career out of doing whatever he wants and getting paid for it. As of 2012, he became the highest paid living artist in the world.
###