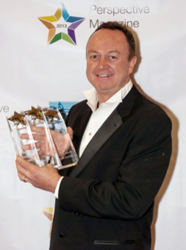 Bryan Lunt, Absolute World Group Chairman & CEO in Los Angeles with three latest awards
Phuket, Thailand (PRWEB UK) 14 March 2013
The accolades continue for the Absolute World Group – Asia's leading multi award-winning lifestyle property developer, resorts and hotels operator, shared ownership and destination club pioneer – having received a further three international awards at the prestigious Perspective Magazine Awards, held at the Beverly Wilshire Hotel, USA.
Recognition of the Group's hard work, delivery and quality, Absolute World Group were awarded Best Interior Design and Best Exterior Design for The Beach Samui, and acknowledging the Group's pioneering vacation ownership and fractional ownership offerings in Asia, were awarded Best Vacation Club Resort (Asia Pacific) for Absolute Twin Sands Resort & Spa, Phuket.
Having received a record number of nominations and votes this year, the Perspective Magazine Awards program provides a global platform of recognition to industry professionals and companies from within the resorts industry and is the only awards program that is independently judged by both a panel of experts and industry peers through an innovative online voting system.
"It's an honour to be recognised alongside some of the top global resort brands and projects around the world, especially during our 15th Anniversary this year. Receiving these three awards is acknowledgment of all the hard work by the Absolute World Group team, and it is encouragement and motivation for us to continue to develop and innovate further in the future," said Bryan Lunt, CEO, Absolute World Group.
"2013 looks to be an exciting year. Bringing together our staff, members and partners, our 15th Anniversary year will see growth of our CSR programmes as well as launches of a number of new products, including the opening of the multi-award-winning, consciously developed luxury resort in Thailand - The Beach Samui." added Lunt.
Absolute World Group enlisted the world-leading hotel design team Yoo, to create a new dimension of luxury on Samui Island in Thailand – The Beach Samui. Winner of the prestigious Bloomberg Property Awards, the Asia Pacific Property Awards and now two-time winner at the 2013 Perspective Magazine Awards, the boutique resort is set to redefine a new luxury resort design experience on the island when it opens in the Autumn this year.
Absolute Twin Sands Resort & Spa Phase I has already sold out, and set for its official opening later this month. Absolute Twin Sands Resort and Spa Phase II offers freehold and shared ownership, consisting of 50 apartments with freehold prices starting at THB5 million and quarter-shared foreign ownership starting at THB2.5 million. Sales and management are being driven by leading global agency Jones Lang LaSalle.
The awards have been flooding in for the Absolute World Group in recent years with a string of international acknowledgements from the Bloomberg International Property Awards to Euromoney, to awards from the American Resort Development Association (ARDA), to the Overseas Property Professional awards, Fractional Life awards, the Thailand Property Awards and the South East Asia Property Awards.
For more details:
http://www.absoluteworld.com
http://www.absolutetwinsands.com
http://www.thebeachsamui.com
http://www.perspectivemagazine.com/gnex/awards
About the Absolute World Group
Founded in 1998, the Absolute World Group of companies has grown strategically to become one of Asia's leading and multi award winning lifestyle property development, resorts & hotels, and destination club brands.
With a global presence in over 27 countries including Australia, Bali, China, England, Hong Kong, Russia and Thailand, the Absolute World Group offers a seamless range of services within the world lifestyle vacation industry, inclusive of a highly successful Destination Club, award-winning self and partner developed resorts in Thailand, Resort Real Estate, a pioneering Fractional Ownership division, now offering fractional yacht ownership and a successful lifestyle magazine series. 2013 marks the Group's 15th Anniversary year.
Asia Media contact:
Chanut Nawnarong or Nungruthai Julakul
Infinity Communications – Thailand
Tel: +66 (0) 89-512-7030 or +66 (0) 83-650-6848
Email: pr(at)infinity-comms(dot)com
International Media contact:
Charlotte Rose Melsom
Global Director of Brand Development
Tel: +44 (0) 791-716-7902
Email: charlotte(at)absoluteworld(dot)net