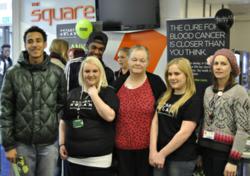 I don't only need support for myself. I am aiming to help other people like me who are looking for donors. — Karen Thompson
Hornchurch, Greater London (PRWEB UK) 14 March 2013
A student at Havering College of Further and Higher Education has this month (March) launched a campaign to find a bone marrow donor that could save the life of her mother.
Hannah Thompson staged an event at Havering College of Further and Higher Education (http://www.havering-college.ac.uk) to encourage fellow students to sign up to the Anthony Nolan register to help patients in need of a stem cell transplant just like her mum Karen.
Healthcare worker Karen was diagnosed with T-cell non-Hodgkin's lymphoma – an aggressive form of cancer – in October 2011. A previous stem cell transplant which involved using her own cells following a course of chemotherapy was unsuccessful and Karen has been on the Anthony Nolan register hoping for a donor match for the last four months.
Mother-of-two, Karen said: "Unfortunately there was a rogue cell and within three months of having the transplant, the cancer came back and so my only chance now is a donor.
"I don't only need support for myself. I am aiming to help other people like me who are looking for donors."
The Anthony Nolan recruitment event at the Havering College Ardleigh Green Campus in Hornchurch, Greater London, was organised by her eldest daughter Hannah, 17, who is studying for a Level 3 BTEC Extended Diploma in Graphic Design.
Her 14-year-old sister Emily, a pupil at Drapers' Academy in Harold Hill, helped Hannah and her mum run the stand with the support of college student development worker Kelly Phillips.
Fellow students showed amazing generosity. A total of 55 students signed up to join the register by filling in a short application form and providing a small saliva sample.
Among them were Aydarus Abubaker, 17, from Chadwell Heath.
Aydarus, who is studying GCSEs, said: "My young niece has this same disease and I wanted to take up this opportunity to help."
Abdulrahman Haji, 17, from Ilford said: "I have registered as a donor because it is an opportunity to save someone's life. It could be me or someone in my family who needs a donor."
Harold Hill resident Karen, 50, said: "People from black, Asian and other ethnic minority backgrounds have a poor success rate as they are under represented on the Anthony Nolan register. The biggest thing I am really pleased about is that we had so many mixed race individuals coming forward. I was really chuffed, not just for myself but for everyone else."
"Hannah is on cloud nine. It was her birthday that day and she said it could not have been a better birthday present."
The Anthony Nolan register has been further boosted by Emily who has set up her own Facebook page to raise awareness.
Karen said: "Their dad Gary and I are incredibly proud of both Hannah and Emily for what they are doing."
Havering College student development worker Kelly Phillips said: "Hannah initially approached me to ask if she could put up a few posters about the Anthony Nolan register. But we wanted to do everything we could to support her and show what a caring college we are."
Joining the Antony Nolan register is simple. You must be aged 16-30 and meet medical criteria. Anyone interested can sign up online by visiting http://www.anthonynolan.org/register.