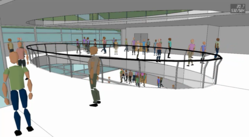 The great thing about our new 3D viewer for Simulex is that it offers a much more visually compelling user experience and allows users to demonstrate more clearly to planning authorities that their designs meet or exceed their criteria.
Glasgow, UK (PRWEB UK) 12 March 2013
A new 3D viewer that animates building evacuation and occupant movement has been launched today by Integrated Environmental Solutions (IES). The pioneering Simulex tool, previously only available in 2D plan views, has been given a facelift to offer advanced animation capabilities to investigate building egress and ingress. It is used worldwide, can model different populations and is readily accepted by planning authorities. Simulex also uses distance mapping for automated travel-distance analysis, a component of all worldwide fire regulations.
The tool allows users to define a building and its occupants, and simulate how they move around a building day-to-day and evacuate during an emergency. The new 3D viewer animates occupant movement on each floor of the building, while allowing the user to "fly round" the building for easier visual analysis. It provides quick access to movie recording, and additional effects such as wall and floor transparencies.
Simulex can help to identify potential problems and bottlenecks and find solutions to ensure that everybody gets out quickly and safely in an emergency. It can accurately predict how long it will take for all occupants to reach the exits, based on the number of people left in the building at any time.
"The great thing about our new 3D viewer for Simulex is that it offers a much more visually compelling user experience and allows users to demonstrate more clearly to planning authorities that their designs meet or exceed their criteria", says Don McLean, Founder and Managing Director, IES. "The results are verified by real-life data, research and independent testing so it maintains accuracy even in the most complicated building models"
The IES Simulex tool can be purchased online at http://www.iesve.com/software/buyingoptions?id=480