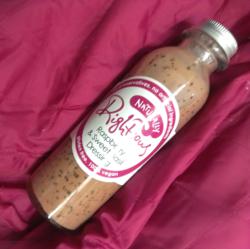 Righteous have designed their salad dressings to be as healthy as possible
(PRWEB UK) 14 March 2013
The online health food supermarket, GoodnessDirect, have taken on the innovative salad dressing brand Righteous.
"The company really fits our healthy food profile," explains Tschaka Roussel, GoodnessDirect PR officer, "Righteous have designed their dressings to be as healthy as possible using healthier oils without all the artificial ingredients. And we like their innovative range of flavours too."
Righteous even make an 'oil free' (and therefore low calorie) Caper & Peppercorn Dressing by combining white wine vinegar, lemon juice and rice wine.
Righteous salad dressings at GoodnessDirect come in 5 different flavours:
Raspberry & Sweet Basil
Ginger & Toasted Sesame
Lemon & Mustard Seed
Mild English Blue Cheese & Cider
Caper & Peppercorn
The salad dressings contain no preservatives, no artificial colourings, no flavourings, no thickeners, are low in saturated fats and rich in Omega 3.
That means the dressings are as good for consumers as the salads they are pouring them on to.
On their website, Righteous lists 3 simple rules that they live by:
1. Each Righteous product must be as good as it can be; tasting great by using only the best ingredients and none of the 'nasties'.
2. Their labels should be crystal clear and easy to understand so that consumers know exactly what goes into each of our products, and what health benefits they offer.
3. The products should be as affordable as possible. Health and flavour should not be charged at a premium. Prices should be kept reasonable by simplifying business operations and passing on savings to customers.
With their expertise in low-expense healthy oils, Righteous also produce a Pro Heart Oil. It contains less than half the saturated fat of olive oil, corn oil and sunflower oil, and has 9 times the Omega 3.
The heart-healthy cooking oil has a a high smoking point, which means it can withstand extremely high cooking temperatures without degrading to produce trans fats.
Ends
--
GoodnessDirect is the health and well-being haven with 1000s of foods available to be delivered to your door. We cater for customers of traditional foods, vegans and vegetarians, organic foodies, and those on a restricted diet such as gluten or dairy free. Our website features in-depth dietary information, so that you know exactly what you're getting, and we'll happily gift-wrap it for you to make a gift to your friends. Visit http://www.goodnessdirect.co.uk.
For more information or photos contact Tschaka Roussel-Milner
tschaka.roussel(at)goodnessdirect(dot)co.uk
01327 701576