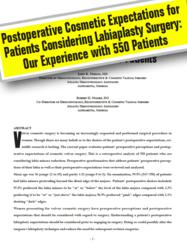 Atlanta, GA (PRWEB) March 14, 2013
Award winning Master Surgeons and Internationally renowned in the field of Urogyencology reconstructive vaginal surgeons, Dr. John R. Miklos and Dr. Robert D. Moore of the Atlanta Center for Aesthetic Vaginal Surgery, author the largest series in the world of postoperative cosmetic expectations for patients (550 patients) considering a labiaplasty. Surgical expectations as to a woman's postoperative cosmetic labiaplasty desire up until this point have been just theories. The full text of this abstract titled, "Postoperative Cosmetic Expectations for Patients Considering Labiaplasty Surgery: Our Experience with 550 Patients", appears in the journal of Surgical Technology International XXI Gynecology, 2102.
In this retrospective analysis preoperative questioners addressed a patient's preoperative perception of their labia as well as their postoperative expectations. The three characteristics of the labia that can be changed by a surgeon at the time of surgery are the labia's length, symmetry, and skin edge color. It is intuitive that patients considering labiaplasty desire symmetrical labia; however, as the analysis reveals the length of the labia and skin edge color are of utmost importance and should be discussed at length with the patient as part of her surgical plan.
It is important to understand a woman's perception of her anatomy as well as her postoperative cosmetic desires, which lead her to seek cosmetic surgery. Though no surgeon can guarantee 100% patient satisfaction, Dr. Miklos and Dr. Moore believe that understanding a patient's labiaplasty expectation prior to surgery is critical to achieving a high level of patient satisfaction thus minimizing the need for second surgeries.