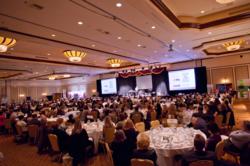 Our message was about empowerment, and despite today's market challenges, our Associates still control how much success they can achieve.
Las Vegas, NV (PRWEB) March 12, 2013
The outlook of AHAA's 2013 Convention was energetic and confident, as both its hosts and guests rallied around the theme of deliberately making the choice to succeed – regardless of the state of the economy or increased competition.
"Our message was about empowerment, and despite today's market challenges, our Associates still control how much success they can achieve," explained AHAA President Tina Soika.
Nearly 400 attendees at this event, AHAA's 18th annual convention, learned about processes and approaches to make their success possible – such as effective marketing, strategic pricing models, and how to create the right customer experience – which were heavily emphasized in both the classes offered and the keynotes delivered by Soika and AHAA CEO Vince Russomagno. Soika also provided a preview of other resources AHAA plans to deliver in the coming months, the most significant being the spring release of Navigator 2.0.
Often humorous, guest speaker Ross Shafer shared his own insight on customer empathy, personal motivation, and business relevance. The six-time Emmy winning comedian, writer, and author delivered a unique perspective with an energy that captivated everyone in attendance.
Awards were presented to recognize significant AHAA Associate achievements. Janet Snyder-Miles, Au.D. and John Miles, Au.D., from HearWell Audiology were presented with the evening's highest honor, the President's Award. While the Growth Award was given to Dr. Wendy Smith, MD and Clay Smith owners of ENT Solutions, who achieved a 103% year-over-year rate of growth from 2011 to 2012.
Other winners included Dr. Alison Hoffmann and Dr. Amy Sapodin from Advanced Hearing Center, presented with the Leadership Award; Dr. Laura Day from Harbor Audiology and Hearing Services, given the Organizational Development Award; and Dr. Sara Nagel from Center of Audiology, earned the All The Right Things Award.
Each of the five award winners were interviewed during the Convention to share details on their personal approaches in establishing and maintaining a successful practice, and how AHAA has helped them achieve their levels of success. The videos can be seen on AHAA's Convention website- AHAAconvention.com.
About American Hearing Aid Associates (AHAA)
AHAA represents the nation's highest quality and most accessible hearing health care network comprised of professional audiologists, hearing aid dispensers, otolaryngologists, hospitals, and universities across the country. AHAA aims to raise the quality of hearing health care throughout America by continual evaluation and upgrading of the educational standards and technical expertise of our hearing Associates.
###