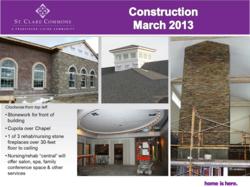 When an organization knows, understands, invests in, and appreciates its team, it translates into better patient care.
Perrysburg, Ohio (PRWEB) March 14, 2013
St. Clare Commons, the innovative Franciscan Living Senior Community is in the final months of construction and plans to hire 120 people in 10 departments over the next 5 months are underway.
St. Clare Commons, which will be a Continuing Care Retirement Community serving nearly 500 senior residents when complete, will open in four or five stages and will eventually employ hundreds. Phase One will offer resident and employee amenities that are new to Northwest Ohio.
This first phase, to open this summer, offers spacious Assisted Living apartments with fully equipped kitchens and walk-in closets, ergonomically-designed Memory Support studios, and Skilled Nursing and Rehabilitation suites with almost 40% more space than the national average. And that is just the beginning. The next phases will include independent villas, apartments, and ranch homes plus a clubhouse with a second restaurant, fitness center, a pool, and more.
As its centerpiece, the 135,000-square-foot Phase One will have a beautifully appointed chapel to offer frequent opportunities for Mass, worship, and contemplation.
Five ponds with fountains, a specially designed memory garden, four patios, an outdoor dining portico, and two rooftop terraces will offer a variety of outdoor exercise, activity, and entertaining options.
Indoor spaces, too, are pleasant for residents and care team members alike. The expansive restaurant will offer server-friendly kiosks for on-demand ordering and intake monitoring in an artfully decorated dining room with slate fireplace.
Nursing services will notice a lot of time saving, back saving, and headache saving technologies and methods too. For the first time, St. Clare Commons combines the best of the GREEN HOUSE® mode l, sub-acute, and post-acute traditional nursing care methods and tools to better promote senior choice and efficient caregiving.
100% electronic admissions and medical recording and in-room medicine administration cabinets means no heavy cart to lumber behind, decreased mistakes, and less wasted time . Quiet building technology means no overhead paging, beeping, and noises to "tune out."
Each "neighborhood" sports a fully operable kitchen served by the main restaurant - plus a well-stocked refrigerator and pantry to serve hungry stomachs 24/7. Each neighborhood is full of vibrant earthy colors with 30-foot vaulted ceilings offering a wash of light from skylights, and floor-to-ceiling stone fireplaces as their centerpieces, and many more reasons to be proud of making St. Clare Commons one's workplace.
There are numerous other improvements in technology and procedures as well.
One such improvement is thanks to a Sylvania Franciscan Health initiative to work with the Studer Group®. St. Clare Commons, together with Franciscan Living Communities, has partnered with Studer Group® of Gulf Breeze, Florida, to improve customer care and satisfaction.
Founder Quint Studer, formerly the Senior Vice President of Baptist Hospitals, has written six books and originally founded the Studer Group® Institute to improve patient care in hospitals. His books, including the first, "Hardwiring Excellence," build on the premise that when an organization knows, understands, invests in, and appreciates its team; it translates into better patient care.
"Today, more than ever, results are what really matter. Organizations need solution-based tools and practices that deliver specific, measurable outcomes. And there's another key ingredient. It's passion . . . sparked when people know they're doing worthwhile work and making a difference." says Quint Studer.
Studer elaborates, "Our purpose is to ignite passion and build cultures of service, clinical and operational excellence through performance management, and leadership development. We use hands-on coaching, results-driven institutes, innovative research, evidence-based tools, and software solutions. We know that success lies in realized gains and in the passion that's ignited to sustain them."
The Studer Group® is one of many partnerships to improve senior care and help those who have chosen the vocation of ministering to seniors.
According to Executive Director, Shawn Litten, "It is vital to start with the best because we are bringing new technologies and methods as well as breaking old habits. We will need a team that is adaptable, eager to learn, and have a drive to improve senior care in this community and beyond."
St. Clare Commons is specifically looking for professional health care providers including an educated and experienced Director of Nursing, Assistant Director of Nursing, Registered Nurses (with or without a specialty in memory or cognition), Licensed Practical Nurses, State Tested Nurse's Aids, Nurse Practitioner, Social Worker. In addition to direct caregivers, to complete the team, St. Clare Commons will need an Executive Chef, Kitchen Manager, Servers, a Bartender, Life Enrichment (Activity) Director and staff, Housekeepers, Laundry and Maintenance personnel, Receptionists, Human Resources Manager, Bookkeeper. Customer service is at the heart of any of these positions as is a willingness to embrace innovations in the field as well as empowering seniors to choose daily activities.
To learn more, those who are interested in the above positions are invited to attend the St. Clare Commons Job Fair on Wednesday, April 3, at Blessed John XXIII at 24250 Dixie Hwy from 11am til 4pm. Each candidate may bring a resume and and their ideas for improving senior care in Northwest Ohio. Applications will be available at that time and can be found online by clicking "Careers" at http://www.StClareCommons.org.
For more information, contact St. Clare Commons at 419-931-0050 or email info(at)stclarecommons(dot)org.
About St. Clare Commons:
St. Clare Commons, a new Continuing Care Retirement Community (CCRC) under construction on Five Point Road near State Route 25 in Perrysburg, Ohio, is expected to be completed in late summer 2013. Franciscan Living Communities, in partnership with the Toledo Diocese, St. Clare Commons is located adjacent to Blessed John XXIII Parish. The initial phase will offer 56 assisted living suites, 36 memory care suites and 60 private skilled nursing suites as well as a chapel, state-of-the-art therapy lab, fountains, pond, two rooftop gardens, a piano lounge and community rooms.
Additional information regarding St. Clare Commons is available at http://www.stclarecommons.org or by calling 419-931-0050.
#####