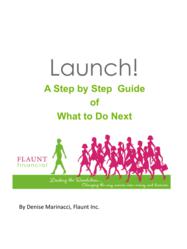 Seattle/Edmonds, WA (PRWEB) March 12, 2013
With 30 years of experience working in small business, author and financial consultant, Denise Marinacci, understands firsthand the challenges entrepreneurs face and serves up an easy to follow, step by step approach.
Entrepreneurs on the brink of a launch are full of questions: How to find the right clients/who is the best customer? What is the ideal product offering? How to establish reasonable startup costs and map out budgets? How to build accountability? The Flaunt Launch Guide tackles these complex issues, one by one, in an easily digested format combined with practical worksheets and motivational success stories.
The Launch Guide enables entrepreneurs to map out and evaluate the research compiled throughout the various exercises to answer the vital question: is the business a go or no go? If it is a go, then the information compiled then becomes the foundation for a business plan. If it is a no go, the Launch Guide works to save valuable time, money and heartache.
Flaunt Financial's "Launch Guide to Build Your Business" which, also includes a 30-minute private phone coaching with Denise Marinacci, is available for download online now for $197.00 http://www.flaunt-inc.com/build-your-business/
About Denise Marinacci /Flaunt Financial Inc:
Denise Marinacci, owner of Flaunt Financial, blends strategy with soul to connect with women business owners. She has over 30 years experience working in small business, which gives her insight into the challenges entrepreneurs face.
Denise's innovative strategies get big results – profits increased by 45% with two new and diverse revenue streams. As the rock star CFO on the Go, Denise is revolutionizing the way women view money and business. With her past personal and professional experiences she knows that to expand your cash you must expand your consciousness and courage. She brings empathy, understanding, and results to any business.
Flaunt Financial provides two distinct tracks for overwhelmed women business owners. The CFO on the Go Packages support busy owners who want to outsource their finances. Denise is a renowned speaker offering educational seminars and contributes to a monthly lifestyle and financial column, Modern Money in My Edmonds News. She is also the author of the new "Launch Guide to Build Your Business."
For more information about Denise Marinacci, Flaunt Financial Inc. and the Launch Guide, visit:
http://www.flaunt-inc.com/
https://twitter.com/FlauntInc
https://www.facebook.com/Flauntincorp
Visit her column Modern Money at http://myedmondsnews.com/
Media Contact:
Contact: Janine Robertson
ph 206 354-9093
janiner(at)blueshoesmedia(dot)com
# # #