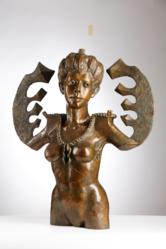 .".sheer technical virtuousity, a rare quality in today's art..." Ann Landi, Contributing Editor, Art News
(PRWEB) March 13, 2013
Since her classical training at France's most prestigious fine arts academy, Les Beaux Arts de Paris, Harlem sculptor Leah Poller reaffirms her attachment to figurative art in her upcoming exhibition "Mirrors of the Soul" (Knox Gallery, NY, April 2013). The portraits in bronze, while simultaneously real and surreal, personal and universal, embrace figuration with vigor, in opposition to the years of abstraction most familiar to the art world.
"Any single square inch of a Rembrandt painting, when magnified, is as good as the best non-figurative art," explains Poller. "In my work, I seek the same quality: taken as a whole, it is definitely representational but throughout the work I have planted tasty morsels that could rival any abstract art we know if enlarged," she states boldly.
Poller uses a return to the figurative as a means to create a psychological portrait of her subject. Ann Landi, contributing editor to Artnews Magazine says, "What most impressed me about her process (aside from sheer technical virtuosity, a rare quality in today's art) was the amount of time she spends getting to know a subject." In fact, Poller likens herself to an amateur psychologist, digging deep into her subject's inner thoughts through multiple conversations, in order to find the defining element which, in her approach "positions the subject in space." From that point on, the challenge is to turn the subject inside out, carefully extracting elements that are symbolic of the deeper self to provide visible, external markers that lead the viewer into identifying with the an emotional resonance that vibrates though all mankind.
For her upcoming exhibition at the Knox Gallery, she executed a portrait of legendary jazz musician Fred Ho, an Asian – American master of the saxophone. "As someone highly self-conscious about my legacy due to the reality of stage 4b metastatic cancer, I have been thrilled with Leah's imagination and desire to imbue and radiate my spirit and energy as the subject of her sculptures," acclaims Ho.
Art critic Siba Kumar Das, upon seeing Poller's sculpture of Ho said, "I thought of the emotional power attributed to Bodisattvas. In this, she creates a continuum of figurative communication, just as Bodhisattva images do, by offering to the viewer an incarnation of compassion."
Knox Gallery, known for its support of excellence, courage and clarity, is publishing a catalog of Poller's portraits entitled "Mirrors of the Soul", and will host a series of
events in their Central Harlem Gallery, heralding in a new age for figurative sculpture with Poller's psychologically driven portraits. (Opening event: April 11)
About the Knox gallery: http://www.knoxgallery.com
The Knox Gallery, directed by Charles Knox LaSister III, located in Central Harlem, offers an elegant exhibition space in which to experience contemporary art created by emerging and established fine artists of high quality and unique expression. The unifying theme of all the work exhibited expresses profound formal grounding, an aesthetic level of excellence and an expression of courage and clarity in the voice of each artist.
About Leah Poller: http://www.leahpoller.com
Paris trained sculptor Poller is known for her internationally exhibited 101 Bed Collection and for her sur-realized portraits. As artist, arts-activist, writer and content editor of New Observations, Poller brings a lifetime career in the arts to Harlem where she lives and works. For more information: http://www.leahpoller.com
About Fred Ho: http://www.bigredmediainc.com
A Harvard student of sociology, and recognized as the greatest baritone saxophonist of all times, author of 8 books, director for 30 years of the Afro Asian Music Ensemble, and inaugurator of the Apollo Theater series and the Red Rooster's Ginny's Supper Club, Fred Ho has transformed music. The magnitude and immensity of Fred Ho's stature in multiple fields and intersections can be best understood in the new book edited by Drs. Roger Buckley and Tamara Roberts, Yellow Power, Yellow Soul: The Radical Art of Fred Ho (University of Illinois Press), publication April 2013.