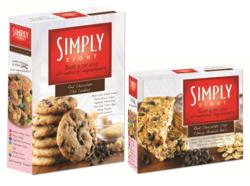 Kalamazoo, Michigan (PRWEB) March 15, 2013
Simply Eight, a Michigan-based company dedicated to simple foods, today announced its store shelf expansion into select Meijer and Kroger stores in Michigan. This expansion marks a new milestone for Simply Eight, as its products are now available in two of the top retailers in Michigan.
Beginning March 15, consumers will be able to shop for Simply Eight chewy granola bars in the breakfast/granola bar aisle of select Meijer stores within Western Michigan. Simply Eight cookies have been available in the Natural Foods section of select Kroger stores within Michigan since February 15.
"We are extremely excited to have our products available on a broader basis to consumers seeking healthier options in their grocery stores. With so many processed foods with lengthy ingredient statements on store shelves, it can be a real challenge in finding the right choice.
"We believe Simply Eight makes it easier for shoppers because our ingredient lists are simple. Also, we are also very proud to have opportunities to build relationships with local and national retailers, who believe in our mission of simple foods." says Ernie Pang, Simply Eight's Founder and visionary behind the simplicity branding.
Each of Simply Eight's products contains 8 or fewer ingredients that are minimally processed. The company challenges the status quo of the processed foods industry and believes great tasting convenient breakfast and snack foods can be made simpler – without all the complicated inventions of modern food science.
Simply Eight's current product line consists of cookies and chewy granola bars both in two flavor varieties: Chocolate Chip and Peanut Butter Chocolate Chip.
All products are made with all natural ingredients – ingredients free of artificial preservatives, artificial flavors, artificial colors, hydrogenated oils, High Fructose Corn Syrup (HFCS), Genetically Modified Organisms (GMOs) and trans fats.
About Simply Eight®
Simply Eight® is based in Kalamazoo, near Michigan's rich agriculture and food innovation industries. Simply Eight® Founder Ernie Pang and his team created Simply Eight® with a philosophy of providing minimally processed packaged foods for consumers who want simplicity and familiar kitchen pantry ingredients. Each food product contains just eight ingredients or fewer. For more product information and blogs on simple foods/ingredients related topics, please visit the Simply Eight® website at http://www.simplyeight.com.