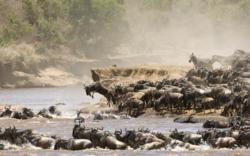 We've been conducting the migration tour for three consecutive years now and we feel this is our best tour yet. – Mytri Indukuru, Director & COO of PlanetWildlife India
Washington, DC (PRWEB) March 13, 2013
PlanetWildlife is pleased to announce its newest tour, Kenya: The Great Migration – A Signature Tour Led by Sarath Champati. The Great Migration tour is one of PlanetWildlife's most popular offerings, and this exclusive, small-group take on the tour is already selling fast. Like all of PlanetWildlife's other Signature Tours, this tour features an up-close-and-personal wildlife experience, expert guides and first-rate accommodations.
Dubbed one of nature's greatest events, the Great Migration is one of the largest mass movements of land mammals known to man. This natural phenomenon is the awe-inspiring, annual migration of millions of wildebeests, zebras and Thompson's gazelles across the great plains of the Serengeti ecosystem in Kenya and Tanzania. As these herbivores cross the crocodile-infested waters of the Grumeti and Mara rivers in search of food and water, they are closely tracked by fearsome predators.
"We've been conducting the migration tour for three consecutive years now and we feel this is our best tour yet. Our experience has helped us carefully evaluate variables, such as accommodations and transportation, to design an exceptional tour best-suited for our nature-loving clients," says Mytri Indukuru, Director & COO of PlanetWildlife India. To grant better access of the migration as it happens, this year guests will have four days to experience this natural wonder in the Masai Mara National Reserve and at two well-located camps: the luxurious Mara Leisure Camp and Kilima Camp, which boasts stunning views of the Masai Mara. On their journey to the Mara from Nairobi, travelers will spend one full day in the lovely Lake Nakuru National Park, where they can spot millions of flamingos and other wildlife, including white rhinos.
Expert naturalist Sarath Champati, who has worked and guided in the Masai Mara for the last 14 years, will lead the tour. "Sarath's rich guiding experience in the Masai Mara and extensive knowledge of its wildlife make him an ideal tour leader. He is a keen photographer and an avid birder, and will offer the best possible guidance on the trip—making it a truly memorable experience!" says Parveez Islam, PlanetWildlife's Manager - Travel & Operations. PlanetWildlife guests echo this sentiment. "Our Tour Leader Sarath Champati was the best, to put it simply! We couldn't have asked for a better wildlife safari," says Jaya Leela, who traveled on the tour last year.
Beginning on August 3, 2013, the seven night/eight day journey costs $3,385 (with a $650 single supplement) and includes accommodations, some meals, airport transfers and guides. The tour is already half sold out due to high demand and a second departure may be added, subject to availability.
For further information on Kenya: The Great Migration, itineraries and tours, please visit http://www.planetwildlife.com, or email: info(at)planetwildlife(dot)com. For global media inquires please contact Talia Salem at talia(at)planetwildlife(dot)com.
About PlanetWildlife:
PlanetWildlife is an international sustainable travel company that specializes in wildlife travel. It is backed by highly successful entrepreneurs and managed by a professional team who are passionate about wildlife and have been involved in a variety of conservation activities over the years. PlanetWildlife.com features more than 300 itineraries to Africa, Asia, and the Americas comprising a diverse range of photography safaris, hiking expeditions and bird-watching adventures, as well as ocean cruises to the Arctic and Antarctica.
Most tours offer flexible departures and are well organized, competitively priced, environmentally responsible, and tailored to suit the requirements of group or individual travellers. All tours are led by highly qualified and experienced leaders, and aim to leave a minimal negative impact on the environment. Respected travel industry professionals and wildlife experts work in consultation with PlanetWildlife and are instrumental in designing each itinerary. The company takes a comprehensive approach to sustainability by promoting a greater understanding and respect for local cultural, social and environmental issues through tourism and its corporate social responsibility initiatives. It is part of PlanetWildlife's corporate policy to fund select awareness drives and wildlife conservation programs and welcomes suggestions from the public in this regard.
About Sarath Champathi, Advisor and Wildlife Specialist:
Sarath Champati is a prominent naturalist and trainer who has experience in not only conceptualizing wildlife/nature-based activities for tourists, but also in creating entire training courses for other naturalists as well. He started as Chief Naturalist for Jungle Lodges and Resorts at India's Kabini River Lodge. He has worked in India and South Africa at Taj Safaris and CC Africa (now called andBeyond Africa). Sarath has successfully spearheaded the concept of high-end wildlife tourism in India.