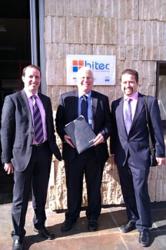 Preactor software is the tool that best complements the information generated by Microsoft Dynamics NAV.
(PRWEB) March 12, 2013
IT solution provider Bitec has signed a distribution agreement with planning and scheduling software company Preactor Group.
The Spanish firm, based in Murcia, wants to offer Preactor software in order to strengthen the portfolio of business solutions it provides for SMEs and subsidiaries of larger international companies.
The Preactor Group is a worldwide leader in planning and scheduling software. Its products allow companies to schedule production to make optimum use of finite resources to meet manufacturing deadlines.
The Preactor software will integrate seamlessly with Bitec's existing offer, which includes ERP Microsoft Dynamics NAV. Both Bitec and Preactor are Microsoft Gold certified partners.
José Escandell, Dynamics NAV area manager for Bitec, said: "Preactor software is the tool that best complements the information generated by Microsoft Dynamics NAV.
"At Bitec we've connected the two systems in order to offer users a joint solution which allows them to make optimum use of the information they have and make decisions quickly and efficiently when there are changes in demand or production capabilities. This means our clients can coordinate their commercial and production areas, therefore reducing costs while improving customer satisfaction because of increased reliability in delivering orders to deadline."
Bitec launched in 2006 with three employees, and has since expanded to employing more than 20 highly-qualified consultants providing technological services to SMEs. It already has several Spanish customers in common with Preactor, and now plans to grow its business by building on this.
Raul Buiza, Preactor Europe country manager for Spain and Portugal, said the distribution agreement was an important one for both companies.
"This follows hot on the heels of the launch of the Preactor Group's Barcelona office in 2012, and helps expand the amount of support we can provide to Preactor users across the country," he said.
"Bitec is an important player in the implementation of IT solutions for SMEs in the Murcia and Alicante area. The association between our two companies will enable our customers to benefit from a unique solution, maximising the value of their ERP systems and achieving excellence in industrial and operational performance."
Preactor software is already used by more than 4,500 customers across 75 countries, and is translated into over 30 languages.
About Bitec
Bitec, located in Murcia and Alicante, offers IT solutions for SMEs. It leads projects of implementation and customisation of enterprise management systems (ERP Microsoft Dynamics NAV) and has been accredited as a Gold Partner of Microsoft.
Bitec develops business intelligence applications and is recognised as a QlikView solution provider. It also provides the systems infrastructure required to installing these applications (IBM Business Partner).
About the Preactor Group
The Preactor Group of companies represents world leadership in production planning and scheduling software used by a wide range of businesses. Frequently integrated with ERP, MES and Supply Chain Management solutions, Preactor's breakthrough technology is used by more than 4,500 small, medium and large multinational companies located in 75 countries.
The Preactor Group and its subsidiaries have established partnerships with more than 400 companies located around the world to provide local expertise to support the implementation of the solution for each company. These 1000+ accredited professionals offer a key resource working closely with users to ensure each company's unique requirements are met.
The current trends in manufacturing are towards lowering inventory levels to reduce costs yet still being able to respond to shorter lead times to satisfy customer demand. Preactor offers a family of applications ranging from mid- and long-term capacity planning to detailed scheduling and is translated into over 30 languages.
Preactor celebrates its 21st anniversary this year. For more information about Preactor, visit the website at http://www.preactor.com and follow on Twitter at http://twitter.com/Preactor.