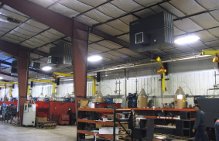 Say Yes to Industrial Maid Systems:

-Easy Filter Replacement
-Light Weight/Non-Corrosive
-Easy Installation
Somers, CT (PRWEB) March 13, 2013
The Industrial Maid T-Series packaged air cleaners are the industry leader in "Free Hanging" ambient air filtration. Its features and benefits make it the lightest and best performing air pollution control system in the business.
The T-Series industrial air cleaner features a polyethylene cabinet shell. The benefit of this feature is it is lightweight and non-corrosive.
Each air pollution control system features disposable filters. Disposable filters allow the customer to spend as little time as possible to maintain the efficiency of their system. There is no mess and no compressed air required.
The Industrial Maid T-Series system is a simple installation that does not require the expertise of a mechanical contractor.
The most important feature of the T-Series air pollution control system is the T-Shaped design. This design creates effective push/pull air patterns.
The push/pull air pattern design is the most effective way to remove particulate, dust, smoke, or oils from the air stream.
Air enters the Industrial Maid T-Series air pollution control system from each end of the unit.
The particulate, smoke, dust, or oil is captured with a panel filter, this is the first stage of filtration. It then passes through the main stage filter, which is a highly efficient bag.
Once the particulate has been captured and removed from the air stream, it is then exhausted through one side of the unit (in the middle) and recirculated in the air pattern that is designed by Aquest Corporation.
Each Industrial Maid system can be outfitted with multiple filter configurations, based on the application. Once a customer's filters have become dirty, beyond working properly, a filter service gauge will indicate when they need to be changed.
The T-Series industrial air cleaner is perfect for ambient plasma cutting, weld smoke and fumes, oil mist collection, and other dusts.
Please consult Aquest Corporation for info, free site surveys, and analysis regarding any air filtration needs. Aquest is a 26-year-old environmental engineering firm and is a leader in industrial air filtration.
Aquest Corporation is located at 626 Main St. in Somers, CT.
Phone number is 860.749.3938