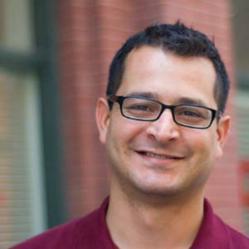 Baltimore, MD (PRWEB) March 12, 2013
Baltimore based interactive marketing agency, idfive is proud to announce that its Executive Vice President of Strategy, Andres Zapata, was recently honored with an Executive Management Award from SmartCEO Magazine.
The Executive Management Awards highlight chief executives who have gone above and beyond to support their organizations' initiatives. This year thirty Greater Baltimore chief executives were recognized for their creative management vision, leadership philosophy, innovative strategy and undeniable work ethic. The 2013 Executive Management Award winners collectively generated $1.32 billion in annual revenue and employed over 4,600 individuals.
"All too often, senior leaders in an organization become unsung heroes. This is why SmartCEO designed the Executive Management Awards. The 2013 EMA winners are not only taking their companies and co-workers to new heights, but they are also leaders within the communities where we work and live," says Craig Burris, founder and president of SmartCEO magazine, "We are honored to award each of these individuals and tell the stories of their achievements and contributions."
Zapata, who has been with idfive since its inception in 2005, has served as the firm's leader since 2008. Under Zapata's direction, the Baltimore-based integrated advertising and design agency has closed 13 consecutive quarters of profitable growth and has grown to become one of the most respected higher education marketing firms around.
Zapata was nominated for the SmartCEO Executive Management Award when members of his staff sought to recognize him for his refreshing and positive management style. Pete Meacham, idfive's Director of Marketing shared, "Andres is, first and foremost, a teacher, both for his graduate students at The Maryland Institute College of Art and for his team at idfive. As members of the idfive team, we consider ourselves extremely fortunate to have him as a leader, a mentor, and a friend who is always open, understanding and respectful, both professionally and in personality. Because of the time he takes to help his team grow, and through his personal example, to work for Andres is to be constantly immersed in lessons."
Dr. Sean Carton, Chief Creative Officer of idfive commented, "We are extremely proud to have Andres recognized for his hard work and dedication to idfive. Under his direction, idfive has grown into a profitable company with dedicated and engaged employees. Additionally, his motivation has guided our firm to produce award-winning work and has earned the respect of our clients and our peers. One of the most refreshing things about Andres is that he is not all about the numbers. He genuinely nurtures corporate culture and the creative process. Andres has been instrumental in idfive becoming the amazing company that it is and I credit this to his leadership by example and willingness to do any task, no matter how big or small."
About the Executive Management Awards:
The Executive Management Awards highlight chief executives who have gone above and beyond to support their organizations' initiatives. SmartCEO profiles chief executives in the Mid-Atlantic in four categories: CFO, CIO/CTO, COO and CXO. SmartCEO accepts award applications online and via email, which are then reviewed by an independent panel of business leaders who select winners based on the quality of the nominations. Each year, the winners are profiled in Baltimore SmartCEO magazine and celebrated at an awards reception in March.
About idfive:
idfive is an award winning integrated, interactive advertising, web design, and brand consulting agency. Founded in 2005, the Baltimore-based agency creates working solutions for clients throughout the United States. Specializing in strategic marketing and web solutions for clients in the fields of higher education, not-for-profit and anyone else whose mission is to do good, idfive brings an unparalleled level of expertise in cutting edge technologies and informed design to its marketing strategies. idfive utilizes the principals of informed design to focus real knowledge of market, audience, competitiveness, design and technology to create strategies that forge results.
For more information on idfive please contact Colleen Riopko at colleen.riopko(at)idfive(dot)com or visit http://www.idfive.com.