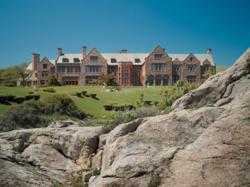 While many of her wealthy contemporaries were generous donors, Miss Duke went a step further and was heavily involved in the causes to which she donated.
Newport, RI (PRWEB) March 13, 2013
John D. Rockefeller once said, "think of giving not only as a duty, but as a privilege." Doris Duke, an heiress and the 'richest girl in the world' at the age of 12, made a career of giving, particularly to causes in which she had a personal interest. Visitors are invited to explore the depth of her generosity and philanthropic endeavors at the annual exhibit at Rough Point, Miss Duke's Newport home. A Career of Giving: The Surprising Legacy of Doris Duke explores how this renaissance woman with diverse interests and abilities turned her substantial financial means into a philanthropic empire. It is estimated that Miss Duke donated over $400 million (in today's dollars) during her lifetime, and her legacy of generosity continues today, almost 20 years after her death.
"Doris Duke inherited $80 million dollars upon her father's death. She was financially savvy and very intelligent in how she invested and spent her money, which allowed her to make philanthropy her vocation," explains Kristen Costa, exhibit curator. "While many of her wealthy contemporaries were generous donors, Miss Duke went a step further and was heavily involved in the causes to which she donated. She invested in these endeavors not out of obligation of wealth, but from a willingness to engage directly with her interests on a meaningful level beyond her pocketbook."
Records reveal over 500 organizations to which Miss Duke donated via her various foundations during her lifetime. While many causes to which she contributed have been identified, there are many more acts of philanthropy which have gone undocumented or were conducted anonymously.
"Her involvement with each interest and cause became her full-time job; her business was philanthropy," continues Costa. "One of the most important influences on her ideas about philanthropy was her father's creation of the Duke Endowment in 1924. Doris served on its board beginning at the age of eighteen. No doubt that experience and her father's influence had a great impact on her sense of social responsibility as she came of age."
Doris Duke founded 5 different non-profits during her lifetime, beginning with Independent Aid in 1934. Her legacy of giving continues today through the Newport Restoration Foundation (NRF) and the Doris Duke Charitable Foundation (DDCF), which supports three of Doris Duke's former properties as well as four grant-making programs to non-profit organizations.
Preservation was an interest of Miss Duke's which she generously supported. Realizing the need to save the historic colonial architecture of Newport, her summer hometown, Miss Duke created the Newport Restoration Foundation (NRF) in 1968. With her leadership, the foundation restored 83 properties that were, and continue to be, leased to tenants who serve as historic stewards of the properties. In addition, Miss Duke and the NRF restored Prescott Farm, as a historic landscape property, and Whitehorne House, a museum of Newport and colonial furniture. Although the NRF does not have its own endowment, it was the single most heavily-funded organization by Doris Duke personally over the years. Today the NRF maintains these properties as well as Rough Point, which was bequeathed to the foundation upon her death to be used as a house museum.
In her will, Miss Duke left the majority of her fortune to a foundation to be created in her name: the Doris Duke Charitable Foundation. The foundation's mission is based on Miss Duke's written guidance and the causes she was most devoted to during her lifetime. Her legacy continues to support environmental conservation, medical research, prevention of child abuse, and the arts. As of December 2012, DDCF has granted more than $1.1 billion to many of the interests closest to Miss Duke's heart.
A Career of Giving: The Surprising Legacy of Doris Duke will be on exhibit in the galleries at Rough Point April 11 through November 9, 2013. Guided house tours, which last approximately 75 minutes and include the exhibit, cost $25. Children 12 and younger are admitted for free. Tours are offered 10:00-2:00, Thursday-Saturday, April 11 – May 11. From May 14 to November 9, tours are offered 10:00-3:45, Tuesday-Saturday. In addition, the galleries are open during Rough Point After Dark, a series of special events, as well as during educational lectures and programming. For more information or to buy tickets, visit http://www.NewportRestoration.org or call (401) 847-8344.
Rough Point was bequeathed to the Newport Restoration Foundation by Doris Duke upon her death in 1993, complete with all of its contents. It was her express wish that it be opened to the public as a house museum. Founded by Miss Duke in 1968, the Newport Restoration Foundation, a non-profit institution, was formed with the express purpose of preserving, interpreting, and maintaining landscape and objects reflecting Aquidneck Island's 18th- and 19th-century architectural culture.