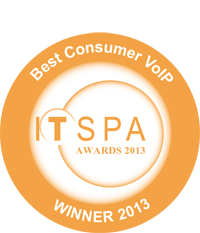 It is a great honour to receive the ITSPA 2013 Award for Best Consumer VoIP and I am extremely proud of this achievement and recognition.
Sheffield, United Kingdom (PRWEB) March 13, 2013
ITSPA (The Internet Telephony Services Providers' Association), the voice of the UK VoIP industry, held its annual awards ceremony in the House of Commons last week in London. The awards were hosted by Dr. Julian Huppert MP, Vice Chair of the Parliamentary Internet Communications and Technology Forum and were presented in eight categories. Localphone were announced the proud winners of the Best Consumer VoIP Award beating BT to the title, which was announced as the runner up with Highly Commended.
All entrants had to submit a written case study and self-assessment, which were independently reviewed by the ITSPA Awards judges and Malden Electronics conducted two months of technical testing for three of the categories, including Best Consumer VoIP. Full details of the awards can be found at http://www.itspaawards.org.uk.
Paul Cusack, CEO and founder of Localphone, said, "It is a great honour to receive the ITSPA 2013 Award for Best Consumer VoIP and I am extremely proud of this achievement and recognition. It wouldn't have been possible without the help from all the Localphone employees who have worked so hard to make our service world class, so I'd like to offer my personal appreciation to them. We have lots of exciting plans and product development scheduled in for 2013 and we look forward to announcing these to the public in the coming months as well as entering more categories at the ITSPA Awards next year."
Localphone was founded in 2007 by entrepreneur Paul Cusack, who famously set up Ebuyer and the Broadband provider, Plusnet, before setting up his latest venture http://www.localphone.com. Paul is originally from Rotherham, South Yorkshire, and set up his businesses in the local areas, which have transformed Sheffield into an IT and telephony hub.
Localphone has quickly grown to become one of the world's leading providers of cheap international calls and texts with rates up to 88% cheaper than the competition and more than ten million users worldwide. Calls can be made straight from a mobile phone, landline or computer so there's no need to purchase extra SIM cards or calling cards unlike with some international call providers. It is a pay as you go service, so users manage their account and add credit from their account online and don't have to worry about monthly contracts.
The company offers a range of services to suit the different needs of their customers all over the world. Localphone recently added the ability to make WiFi calls from their free iPhone and Android apps, which means customers can avoid paying roaming charges when calling from abroad. It also allows users located in countries where there are no access numbers to use the service and make international calls easily.
If you would like more information about this topic, or to schedule an interview with Paul Cusack, please call the press room at +44(0) 114 3190538 or email press(at)Localphone(dot)com.