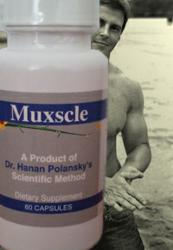 Parents in particular should be on guard for the signs of steroid use and body image issues." - Brad Girtz
Rochester, NY (PRWEB) March 14, 2013
polyDNA has learned that a growing number of teens are abusing anabolic steroids at a young age.
"Men and women are increasingly using illegal steroids in order to build muscle or get toned. New research from the University of Minnesota has found that many teens are abusing steroids at a young age." [1]
Moreover, "We've got some young people and in some cases pretty young, young people we're looking at middle schoolers, who say they are using some of these pretty risky substances in order to increase their muscularity. And that's something we need to be paying attention to." - Marla Eisenberg, lead author of the University of Minnesota study. [2]
Parents should be aware of the serious side effects of anabolic steroids. polyDNA urges parents to speak with their teens about natural alternatives to steroids. One such alternative is Muxscle.
Muxscle is a unique, all natural, and safe bodybuilding supplement which was tested and found to be safe and effective in a clinical study conducted by the Center for the Biology of Chronic Disease. http://www.cbcd.net/CBCD-Abstract-of-Muxscle-Clinical-Study.pdf
Muxscle is not a steroid…synthetic or otherwise. It is natural, and was developed after much research into the best, most effective muscle building and strengthening natural ingredients.
Although polyDNA recognizes that many teens want fast results, Muxscle is not an instant fix.
polyDNA would like to point out that safety is an important concern especially with teenagers, and that building big muscles naturally is the safer option. Muxscle increases physical strength and helps one to gain bigger muscles by stimulating the signal that nerves send to muscles.
The stronger the signal the brain sends to the muscles, the stronger the muscle contraction. The stronger a person's muscle contractions are, the faster the muscle growth.
Muxscle has been clinically tested by scientists at the Center for the Biology of Chronic Disease (CBCD). The scientists found that it safely increased the overall physical strength of the participants in the study. They also found that it improved the performance of those activities that required the use of physical strength.
A capsule of Muxscle includes 100 mg of quercetin, 150 mg of a green tea extract, 50 mg of a cinnamon extract, 25 mg of a licorice extract, and 100 mcg of selenium. The Muxscle formula is patent protected.
In addition, each bottle is GMP Certified and can be bought from the Muxscle website for just $39.95.
To learn more about Muxscle, and how it can help teens build bigger, stronger muscles safely, visit http://www.muxscle.com.
To schedule an interview with a polyDNA scientist, please call 585-250-9999
References:
[1] [2 http://www.ncbi.nlm.nih.gov/pubmed/23166333
###
polyDNA is a biotechnology company that develops dietary supplements using Dr. Hanan Polansky's scientific method. Dr. Polansky published the highly acclaimed scientific theory on the relationship between the DNA of latent (chronic) viruses and the onset of chronic disease.
polyDNA developed and is marketing Muxscle, a natural pill that increases physical strength by stimulating the signal that nerves send to muscles.