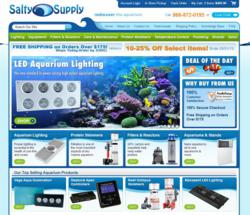 We also offer 1-5 percent cash back site wide.
Altamonte Springs, FL (PRWEB) March 13, 2013
According to a recent study conducted by Nielsen, a leading global information and measurement company, which provides market research, insights and consumer data, website visitors expect navigation to be easy to use and well organized, and representatives with SaltySupply.com say its newly revamped navigational structure will make it easier than ever before for anyone to search its website.
Richard Gilliland, ceo of Salty Supply, one of the largest online suppliers of high end marine aquarium equipment, said the company revamped its navigational structure to make finding products on its website easier with search refinement, new categories, site wide promotions as well as real-time stock status.
"We've made our website easier to navigate with better promotional material so visitors to our website can not only save money, but know what's on sale as soon as they land on our site," Gilliland pointed out.
One of the many promotional options that visitors will be able to take advantage of is its wholesale accounts for many of its top selling product lines, such as Aqua Illumination and Reef Octopus.
Local fish stores and others around the US and internationally, who navigate to this option on the company's website, will have opportunities to sell products that at times are hard to find for their customers.
"We also offer 1-5 percent cash back site wide on every single purchase," Gilliland stressed, before adding, "It's a great way to put money towards your next purchase."
The company's decision to improve its navigational structure could prove to have perfect timing.
According to Bing, Microsoft's search engine, which conducted an analysis for all businesses to see if there are any correlations between page navigation and page speed versus numerous performance indicators such as customer satisfaction, revenue generated per user, and clicking speed, the report showed that less than a 2-second increase of delays in page responsiveness due to speed or structural navigation reduced satisfaction by -3.8 percent.
In addition, the report showed that difficult navigation and slow page load times resulted in lost revenue per user of -4.3 percent and a reduced clicks on the average businesses' products and services by -4.3 percent, among other findings.
"The new navigational structure that we've implemented will increase customer satisfaction and make it a pure pleasure for customers to find what they are looking for, quickly and easily," Gilliland said. "In addition to the fact what we provide one-on-one customer service that you won't find at big box stores, navigating our site is now hassle free, something that many companies in the marine aquarium equipment business can't say."
For more information, please visit: http://www.saltysupply.com
About Salty Supply
Salty Supply Inc. founded in 2007 offers over 1,000 of the highest quality marine aquarium supplies around.
Each product is researched and selected based on quality, ease of use as well as manufacturer support and warranty.
The main goal at SaltySupply.com is to provide 100 percent complete customer satisfaction. If customers are unhappy, the company has a policy in place where it will refund its customers all of their money.