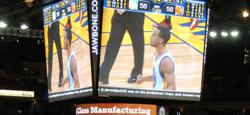 "With the new social media integration available through Broadcaster iX™ Social, Phizzle is offering a solution that enables marketers to take their campaigns to the next level," said Moe Motamedi, Chief Technical Officer at Phizzle
San Francisco, CA (PRWEB) March 13, 2013
Phizzle Inc., cited as one of Forbes Magazine's 100 Most Promising Companies of 2013 and a leading technology provider of advanced mobile and digital marketing solutions, today announced the release of Broadcaster iX™ Social, a new feature to the company's proprietary, award-winning product Broadcaster iX™, a live event presentation solution for television and other broadcast media including scoreboards, digital signage and the web.
Broadcaster iX™ Social enables marketers to integrate social web functionality into digital marketing campaigns primarily on in-venue digital screens. Broadcaster iX™ Social supports today's most popular social networks, including Facebook, Twitter, Google+, Foursquare, and others in a single tool. Also, linked to picture sharing networks like Instagram, Broadcaster iX™ Social monitors and broadcasts pictures submitted by fans, bringing all social and mobile efforts together under one platform. In combination with Broadcaster iX™ Classic - which offers a similar solution dedicated to SMS messaging and digital campaigns - Phizzle's Broadcaster iX™ Social solution is the most comprehensive tool for integrating and managing social and mobile engagements for any live video or broadcast production.
Used in conjunction with Phizzle's exclusive CRM platform, Broadcaster iX™ Social allows brands to seamlessly monitor and message not only their SMS database, but also their social network following on Facebook, Twitter, Google+, Foursquare, and others. With a link to picture sharing networks like Instagram, Broadcaster iX™ Social can also monitor and broadcast pictures submitted by fans, bringing all social and mobile efforts together under one platform.
Broadcaster iX™ Social makes it simple for marketers to integrate cross-channel marketing into their real-time, digital screen campaigns and seamlessly integrates with all major broadcast software and display equipment, including Chyron, Harris, VizRT, Daktronics, ANC, Cisco and others.
Among the pioneers in multi-screen digital integration, Phizzle works with leading sports teams, broadcast companies and retail brands to deliver high-end, easy-to-customize real-time, interactive HD graphic templates for use in arena, retail venues, television or mobile campaigns. Broadcaster iX™ Social delivers branded messages while engaging fans at more than double the industry average. Additionally, driven by a high-end, real-time analytics engine, Broadcaster iX™ Social enables brands to comprehensively analyze their campaign engagements.
The NBA's Golden State Warriors are currently using Broadcaster iX™ Social to power the team's digital marketing initiatives. Recently, the Warriors hosted 'Social Media Night' utilizing Twitter, Facebook and Instagram as social channels for fans to tweet questions to team players. Fans tweeted to the Warriors' Twitter account with the hashtag #GSWSocial and then, in real-time, the tweets were broadcast on the arena's Jumbotron.
According to Kevin Cote, Direct of Digital Marketing for the Golden State Warriors, "Social media serves as an important channel for us to communicate with our fans in a reciprocal fashion. It has allowed us to be increasingly creative with campaigns and fan engagement, while also supplementing and enhancing our marketing efforts across multiple channels. Broadcaster iX™ Social has been incredibly easy to integrate into our in-game experience, and it's something our fans have had the opportunity to directly benefit from and interact with during our games."
"We understand that marketers need an integrated approach to cross-channel marketing. With the new social media integration available through Broadcaster iX™ Social, Phizzle is offering a solution that enables marketers to easily and effectively take their campaigns to the next level," said Moe Motamedi, Chief Technical Officer at Phizzle. "As social media becomes more important to brands, integrating popular social channels like Facebook and Twitter and Instagram into digital campaigns is critical for connecting with fans and achieving true business value."
About Phizzle
Phizzle offers an easy to use Web-based platform for brands and teams to launch and manage real-time mobile, social and digital marketing campaigns. With a client roster consisting of professional sports, major broadcast companies and Fortune 500 brands, Phizzle provides mobile and digital solutions designed to create targeted marketing campaigns on any screen, in any venue and on any device.
Phizzle, recently recognized by Forbes Magazine in 2013 as one of America's 100 Most Promising Companies, delivers cutting-edge digital campaigns including: SMS alerts, Text2Screen, Pics2Screen, Tweets2Sscreen, real-time voting, interactive trivia, sweepstakes promotions, mobile coupons, IVR ticket sales, digital loyalty rewards, social media moderation/display on screen and many more.
For more information, please visit Phizzle at http://www.phizzle.com or call 1-877-PHIZZLE (744-9953). On Facebook, please visit http://www.facebook.com/phizzleinc and on follow us on Twitter @phizzle.
Media Contacts
Beth Trier
Phizzle
btrier(at)phizzle(dot)com
415-285-6147