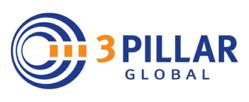 I have been particularly impressed with the consistently positive results achieved in an uncertain economic environment, Izurieta said
Fairfax, VA (PRWEB) March 13, 2013
3Pillar Global, a product development partner creating software that accelerates business value, today announced it has hired Maria C. Izurieta as its Chief Financial Officer (CFO). Izurieta joined the company on March 1st, after successfully leading the sale of Wireless Matrix to CalAmp Corp at a 21 percent premium.
In her role as 3Pillar's CFO, Izurieta will oversee the financial and human resources organizations. She will be directly responsible for enhancing the maturity of the financial systems, processes, and metrics that are integral to assessing corporate performance and promoting growth. She also will spearhead investor relations and corporate development activities to support strategic expansion.
"I have watched 3Pillar evolve over the past four years, and I have been particularly impressed with the consistently positive results achieved in an uncertain economic environment," Izurieta said. "I am excited to join an already-outstanding management team and leverage my experience to help take the company to the next level."
At Wireless Matrix, a publicly-held Software-as-a-Service (SaaS) company that supported the operational field services goals of enterprises, Izurieta served as acting Chief Executive Officer (CEO) for one year and as CFO for eight years. Under her watch, gross margins rose from 40 percent to 71 percent, operating margins tripled, and the company completed a follow-on equity raise at a 20 percent premium in an oversubscribed offering.
"Maria has an outstanding track record of driving business forward" said David DeWolf, 3Pillar's CEO. "Her strategic planning, business intelligence, and financial and operations management skills have allowed companies to increase productivity, identify winning lines of business, and improve profitability. She will be an integral member of the 3Pillar team as we move forward."
Prior to Wireless Matrix, Izurieta was the CFO at VIPdesk, a venture-backed service company offering consumer loyalty programs and concierge services. She also served as Vice President of Finance and Administration at CyberCash, a publicly-traded, international e-commerce company that provides SaaS-based electronic payments products and services. Izurieta began her career at Coopers & Lybrand (now PricewaterhouseCoopers), where she managed high-tech client relationships and audit engagements.
About 3Pillar Global
3Pillar Global builds software products for businesses, enabling them to quickly turn ideas into value. We do this through our disciplined approach to innovation and our deep expertise in disruptive technologies, such as mobile and big data. Through a collaborative and fully-integrated experience, clients have access to a global network of highly-talented, dedicated professionals. http://www.3pillarglobal.com.