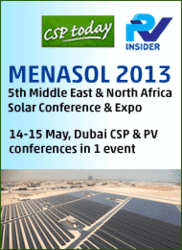 London, UK (PRWEB UK) 18 March 2013
In his webinar presentation, Daniel Zywietz, Managing Director of Ambata Capital Middle East and Deputy Chairman of the Clean Energy Business Council explained that off-grid PV would be the most logical choice for anyone looking to penetrate the MENA market "within the next year or so, before the large government projects take off".
Zywietz, drawing on recent numbers from Pike Research, contextualised the wider off-grid market on the international scale, expounding that "today, micro grid and off-grid… are a gigawatt scale market over 3,000 megawatts in total".
The rising cost of diesel, contrasted with the decline in PV pricing, makes off-grid PV a competitive option to gain more market share – particularly combined with the solar irradiation available in the Middle East and North Africa.
Explaining why PV has not dominated the off-grid market so far, Zywietz pointed to five major hurdles holding back solar development in the off-grid market. They are diesel subsidies, high upfront CAPEX, load management, off-grid power needs and market perception.
Zywietz concluded that while PV is competitive in the off-grid market, "practical hurdles need to be solved to truly open up the market".
The full presentation, as part of the PV Insider webinar on 'the photovoltaic MENA market: analysis and opportunities' can be viewed and downloaded for free using the link http://www.pv-insider.com/menasol/content5.php
Contact:
Matt Carr
PV Insider
matt(at)pv-insider(dot)com