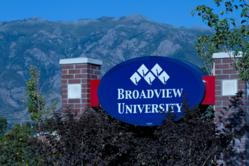 The tuition reduction is one of several initiatives the school is introducing to continue to make college more affordable for everyone.
Salt Lake City, Utah (PRWEB) March 12, 2013
Broadview University, the area's family-managed career college, announced today that it is reducing tuition by up to 14 percent for full-time students at campuses in Utah and Idaho. The tuition decrease goes into effect April 2013 with the school's spring quarter.
According to the school's chief communications officer, Jeff Myhre, "We know that full-time students are twice as likely to graduate, borrow less money and start their careers sooner. That's why our tuition decrease encourages students to enroll full-time."
The tuition reduction is one of several initiatives the school is introducing to continue to make college more affordable for everyone. Myhre is leading a bold initiative to reduce the cost of books and lab fees on a per-class basis to $100 or less. To achieve that goal the school is piloting e-books and digital class materials that will replace paper equivalents.
"Broadview University has always led in the distribution of generous scholarships, which defray the cost of school for many of our students. Last year alone in Utah and Idaho we awarded $1.7 million to our students in the form of scholarships," said Myhre. On average, students receive $11,000 in scholarships, grants and other forms of aid over the course of their degree programs.
To help students graduate more quickly Broadview University understands learning happens everywhere. Previous educational and life experiences will be considered for credit towards college courses. This will help reduce overall college costs and student debt load. Both of these cost-reducing features can save students several thousand dollars.
Campuses affected by the tuition decrease include the cities of Salt Lake City, Layton, West Jordan and Orem in Utah, and Boise, Idaho. Students at Broadview Entertainment Arts University (BEAU) in Salt Lake City are also eligible for the tuition decreases.
About Broadview University
Broadview University has campuses in Salt Lake City, Layton, West Jordan, and Orem, Utah, and Boise, Idaho. Broadview is part of a premier, family-managed system of career colleges, universities and training centers based in Woodbury, Minn. These specialty skills colleges prepare work-ready professionals for successful careers in a wide range of high-demand fields. Through its mission, We Care, the organization integrates hands-on and career-focused education with service- and applied-learning experiences that expose students to their communities and real-world situations. Programs offer undergraduate, diploma and graduate degrees in a wide range of career fields, including business and accounting, health sciences, legal sciences, technology, creative media and applied arts. More than 30 programs are available online. All academic programs are accredited by the Accrediting Council for Independent Colleges and Schools (ACICS). For more information, visit http://www.broadviewuniversity.edu.