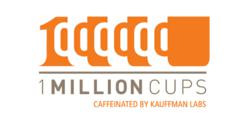 KANSAS CITY, Mo. (PRWEB) March 13, 2013
In what some might consider an ironic twist, technology seems to play a lesser role in building a local entrepreneurial community for startups than good old-fashioned face-time and word of mouth. That's one of the key findings in a new paper released today by the Ewing Marion Kauffman Foundation that surveyed participants in 1 Million Cups (1MC), Kauffman's popular entrepreneur educational program launched in Kansas City, Mo., last year.
1 Million Cups is a weekly program that showcases two startups per week to engage local entrepreneurs, educate them about the startups in their community and accelerate the startups and their founders through mutual collaboration.
"Energizing an Ecosystem: Brewing 1 Million Cups" presents results of an initial survey among 1MC participants to identify their demographic characteristics, information about whether they were a founder or co-founder of a startup, and their attendance patterns at 1MC. The survey, to which 79 participants responded, representing a response rate close to two-thirds, reflects the state of 1MC in late autumn 2012. An infographic and interactive visualization of some of the data also are available.
The program has grown progressively in size and reach over several months, driven primarily by word of mouth. Although 1MC uses its own website, Facebook, Twitter and other social media, nearly 67 percent of survey respondents said they had begun attending 1MC events based on a personal invitation or recommendation.
"The word-of-mouth growth of 1MC suggests the value of interpersonal networking among entrepreneurs," said paper co-author Yasuyuki Motoyama, Kauffman Foundation senior scholar. "Busy entrepreneurs may look to peers for trustable information, rather than weeding through electronic information and trying to assess its value."
The 1MC program itself is equally low-tech. Launched in April 2012, the format is simple: weekly one-hour gatherings at a donated space with brief educational presentations by two entrepreneur attendees, followed by time to discuss their companies, offer suggestions and talk.
The program has grown rapidly from 13 attendees at the first event to more than 250 at a recent event in February. The survey, administered in November 2012, found that 66 percent of survey respondents were attending at least twice a month, and 42 percent were attending weekly. This is despite travel time of 30 minutes or more each way for many of the attendees coming from suburbs.
"Though it's still a young program, we have watched Kansas City's entrepreneurial community enthusiastically embrace 1MC as a 'must attend' event from the start," said Thom Ruhe, vice president of Entrepreneurship at the Kauffman Foundation. "We look forward to surveying attendees again in the future to learn what happens once the program takes deeper root."
The paper's authors believe the group's rapid growth and high level of participation signal the program's value to its audience and its potential as a model for other cities trying to develop and connect their entrepreneurial community.
"Entrepreneurs obviously need and value this regular opportunity to connect and exchange ideas to help each other grow," said co-author Jared Konczal, Kauffman Foundation senior analyst. "By understanding the program's format and costs, basic participant demographics and modes of recruitment, we hope that other cities can start and grow equally effective entrepreneur networks."
1MC programs already have been launched in Des Moines and Cedar Rapids, Iowa, Houston, St. Louis and Reno, Nev.
Other findings from the time of the survey include:

The majority (57 percent) of participants have at least a bachelor's degree, and an additional 29 percent have obtained a master's or doctoral degree.
Most attendees' startups are in a relatively early stage: 47 percent described their business model as "in development." However, the majority of founders and co-founders report working full time in their startup (74 percent) and having taken in at least some form of revenue (64 percent).
43 percent of 1MC participants are not originally from the Kansas City metropolitan area, but came to the area to attend college and stayed, or came after college and stayed.
Fully 87 percent said they attended a 1MC event "to connect with other entrepreneurs," with 46 percent also citing "to have fun" as a motivation for attendance.
This is the first of many surveys planned, and it is expected that these findings will evolve with the 1MC program itself.
About the Kauffman Foundation
The Ewing Marion Kauffman Foundation is a private, nonpartisan foundation that aims to foster economic independence by advancing educational achievement and entrepreneurial success. Founded by late entrepreneur and philanthropist Ewing Marion Kauffman, the Foundation is based in Kansas City, Mo., and has approximately $2 billion in assets. For more information, visit http://www.kauffman.org, and follow the Foundation on http://www.twitter.com/kauffmanfdn and http://www.facebook.com/kauffmanfdn.