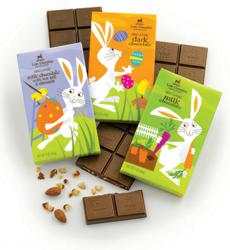 Burlington, VT (PRWEB) March 12, 2013
Lake Champlain Chocolates' Organic Easter Bars were chosen as one of 242 award-winning designs in the most recent HOW International Design Awards. This highly selective and well-regarded competition sponsored by HOW magazine, now in its 20th year, recognizes outstanding creative work produced by individuals and creative agencies from around the world.
The Organic Easter Bars' original illustrative designs feature Treasure the Bunny and his adorable accomplice, Tweet the Chick. While appealing mainly to a youthful audience, the bars also convey a sense of nostalgia for the adult purchaser; what says Easter more than painting eggs, searching for treats hidden in the grass and hopping into a carrot patch?
"We really wanted these bars to capture the optimism of spring and the magic of Easter. The packaging is whimsical and engaging, and the trio of gift-boxed bars offers a new way to build a coordinated chocolate Easter basket," says Catherine Wisloski, Director of Marketing for Lake Champlain Chocolates. "While these bars offered the perfect canvas for seasonally-inspired art, they also needed to reflect the traditional look that our customers know and love. Our graphic designer successfully created a playful design consistent with the look and feel of the LCC brand."
A team of design-industry veterans judged nearly 1,000 entries in 15 categories, and selected winning projects that demonstrated an ideal mix of concept, strategy and execution. The judging panel included Noreen Morioka, co-founder of AdamsMorioka in Beverly Hills, CA; Mikey Burton, an independent designer in Philadelphia; and Jamey Wagner, creative director for Interbrand in Cincinnati.
International Design Awards is a global creative competition; each year, winners represent countries in Europe, Asia, Latin America and North America. FAME, Design Army, Target, Turner Duckworth, Leo Burnett and TAXI Canada were among the winners.
All winning projects will be prominently featured in the March 2013 issue of HOW magazine.
###
About Lake Champlain Chocolates
A pioneer in the American chocolate movement, Lake Champlain Chocolates is a family-owned company located in Burlington, Vermont. In 1983, Jim Lampman declared he would create upscale American chocolates that would "rival the Belgians." Almost 30 years later, the Lampman family has done just that, by introducing European flavors and tastes using local, Vermont ingredients and by taking a craftsman's approach to chocolate: creativity, patience and mastery. This level of care and craft leads to chocolates that win high praise, year after year, from customers and industry experts alike. Lake Champlain Chocolates are handmade by people who are passionate about their work; products include chocolate bars, as well as the best-selling Five Star Bars, truffles, caramels, gift assortments and gourmet hot chocolate and are available online, nationwide at specialty food and gift stores, such as Whole Foods Market, upscale hotels and inns, and at their three company-owned stores in Vermont
About HOW
HOW magazine (HOWdesign.com) is the leading business and creativity magazines for graphic designers, whether they work in solo practices, design firms, advertising agencies or in-house groups. HOW sponsors six annual design competitions and hosts the largest annual gathering of graphic designers in the U.S., HOW Design Live.