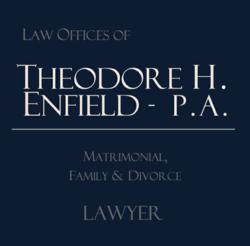 Miami, FL (PRWEB) March 18, 2013
Theodore Enfield, one of the most respectful divorce attorneys in miami, announces on Florida's Alimony state guidelines change, with the passing of the recently proposed bill. Last year's Alimony Reform suggestion to change the Florida alimony laws, which stated that law should be fair to both genders, has passed on its second attempt on Tuesday, March 12th 2013.
According to Florida Alimony Reform, they believe that alimony should work as child support – a fixed amount for a fixed duration, says T. Enfield. Just as no one fights about child support, Alimony Florida should not be any different. The bill that Senator Stargel is sponsoring will help to end outrageous legal fees and promote fairness for all of Florida's families. Florida Alimony Reform says that it simply wants parties to be able to move on with their lives following a divorce without the cord of permanent alimony tying them together.
The Florida house of representatives have released the following Summary Analysis:
Alimony provides financial support to a financially dependent former spouse. The primary elements to determine entitlement are need and the ability to pay, but the statutes and case law impose many more criteria. There are four different types of alimony: bridge-the-gap alimony, rehabilitative alimony, durational alimony, and permanent alimony. An award of alimony may be modified or terminated early in certain circumstances.
The bill makes a number of changes to current law on alimony and dissolution of marriage. The bill:

Eliminates permanent alimony.
Eliminates consideration of the standard of living established during the marriage as a factor in determining alimony.
Creates presumptions for earning ability imputed to an obligee.
Requires written findings justifying factors regarding an alimony award or modification.
Creates evidentiary thresholds for certain awards of alimony or modification.
Creates a presumption that the parties will have a lower standard of living after divorce.
Limits alimony based on formulas that take into account relative incomes and the length of the marriage.
Provides that alimony terminates upon the obligee reaching retirement age.
Shifts the burden of proof regarding the need for alimony to the obligee in certain circumstances.
Prohibits modification of alimony based solely on a reduction in child support.
Allows bifurcation of a dissolution case if pending more than 180 days, and requires bifurcation if pending over 365 days.
Allows modification or termination of existing alimony awards.
Provides a schedule for review of existing awards of alimony.
This bill does not appear to have a fiscal impact on state or local governments.
The bill provides an effective date of July 1, 2013.
According to Theodore Enfield, a Florida family law attorney, the previous opponents of permanent Alimony law agreed that there were sometimes good reasons for a spouse to receive a permanent alimony (i.e. a condition of disability preventing them from working). However, in some other cases, when the alimony receiver is educated and physically capable to work, it may seem as the good luck has found that person, who now has a financial support for life, while the other is an unlucky soul who now must pay for the mistake of marrying the wrong person for the rest of their life.
About Theodore H. Enfield - With more than 30 years of experience helping Florida families deal with family law issues such as Divorce, Child custody, Child support, Alimony, Equitable property settlement and Domestic violence miami, Theodore Enfield, one of the respectful divorce lawyers in Miami, has advised his clients through all issues that are likely to arise during those difficult times.
For questions regarding miami dade divorce contact Theodore Enfield by calling 305-933-9592,
800-733-5299 or filling up a short contact form at http://www.theodoreenfield.com/